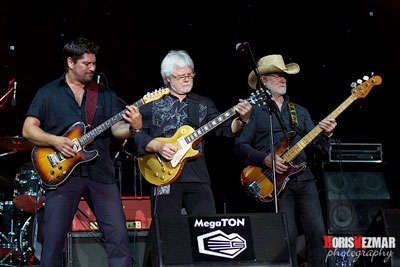 Legendarni rok sastav YU Grupa zakazala je veliki beogradski koncert u Sava centru za 19. april 2012. godine, verujem na opštu radost velikog broja fanova.
Kako prenose Večernje novosti, u nedavnom intervjuu Žika Jelić je između ostalog rekao. "Zvuči pomalo čudno, ali mi trajemo pune 42 godine. S obzirom na to da nismo održali slavljenički koncert povodom četiri decenije karijere, bilo je krajnje vreme da nastupimo pred beogradskom publikom. Novinar i naš veliki prijatelj Peca Popović je insistirao na tome da uradimo beogradski koncert, dok se menadžer Gane Pecikoza ponudio da nam organizuje nastup. I kolege rokeri stalno su nas nagovarali da održimo koncert. Odlučili smo da to bude ove godine i to baš u Sava centru, a ukoliko bude interesovanja, možda ćemo održati još koji koncert u ovoj dvorani."
Žika je između ostalog spomenuo i to da je Dragi sve češće u društvu gitare, što znači da uveliko radi na novim pesmama. Te stoga možemo očekivati da će novi album izaći uskoro jer su ga najavili pred jubilej, a samim tim imati priliku i da čujemo neku novu pesmu na beogradskom koncertu.
Vredno pomena i to, da je u planu nekoliko koncerata u većim gradovima, između ostalih, spominju se Novi Sad i Niš.
A do tada, uživajte malo u zvucima YU Grupe…
(Visited 56 times, 1 visits today)