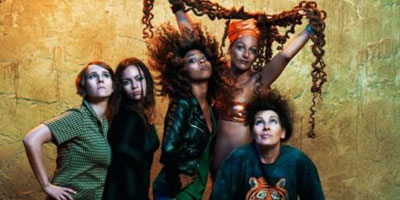 Engleski punk rock bend The Slits uskoro će krenuti na evropsku turneju, na kojoj će promovisati novi album, prvi posle čak 25 godina pauze.
The Slits su osnovale 14-ogodišnjakinje Ari Up (Arianna Forster) i Palmolive (Paloma Romero, ubrzo otišla u The Raincoats), na koncertu Patti Smith u Londonu 1976. godine.
Zajedno sa The Buzzcocks i Subway Sec, The Slits je 1977. bio podrška Clashu na njhovoj čuvenoj turneji White Riot.
Ari Up je sa još jednom originalnom članicom, Tessom Pollitt, 2005. ponovo oformila bend u kome su pored njih dve trenutno i Hollie Cook (ćerka Paula Cooka), Anna Schlute i Adele Wilson.
Godinu dana kasnije bend je objavio EP Revenge of the Killer Slits.
Inače, očuh Arianne Forster je John Lydon.
Novi album Trapped Animal biće objavljen 5. oktobra.
{youtube}j0imgWwNt4A{/youtube}
Izvor:
(Visited 68 times, 1 visits today)