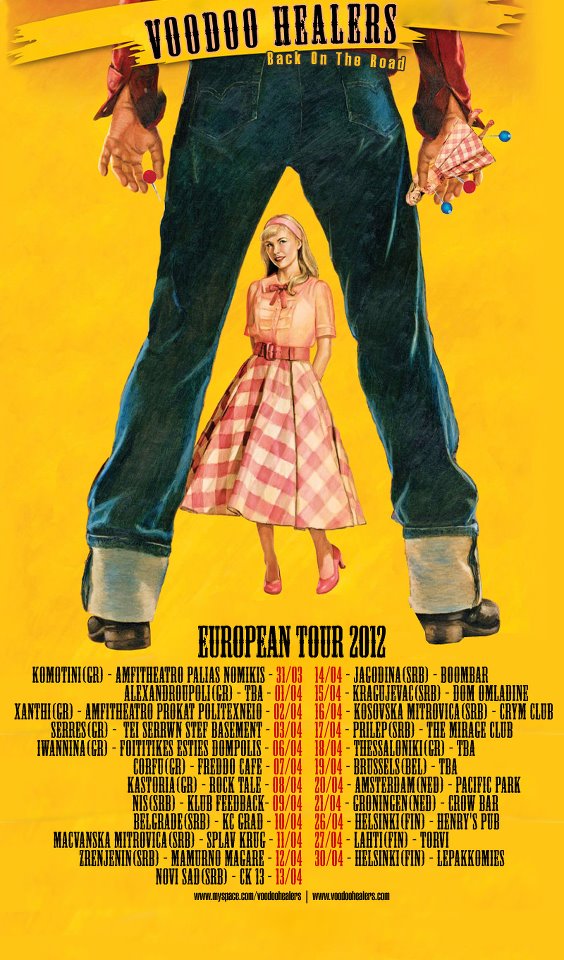 Voodoo Healers su, kako sami kažu, "High Energy Rock'n'Roll" bend iz Soluna. Nastali su 2000. godine, ali tek od 2003. počinju da funkcionišu kao pravi bend.
Izdali su dva albuma do sada "Living in Dogville" (2006) i "Dawn of a Day" (2011) i učestvovali u tribute kolekciji posvećenoj legendarnom Sky "Sunlight" Saxon-u (idejnom tvorcu benda the Seeds) sa obradom njegove pesme "Out Of The Question".
Bend čine: "Fast" Chris Pentelas (Guitar/Vocals), Dinos Dovas (Guitar), Dionisis Ioannidis (Bass Guitar) i Nick "The Sloth King" Tziataras (Drums from Hell).
U utorak 10. aprila Voodoo Healers će imati koncert u KC Grad gde će kao podrška zasvirati i bendovi : Young Husbands (punk'n'roll) i Technicolor Lies (alternative punk rock). Ulaz je 150 dinara.
Nakon Beograda, Solunci odlaze u Mačvansku Mitrovicu na splav Krug. Kao gosti na ovoj svirci pridružiće im se psychobilly/punkrock bend Vultures iz Rume. Početak je zakazan za 21h.
12. aprila su u Zrenjaninu u klubu Mamurno Magare, 13. u Omladinskom centru CK13 i Novom Sadu, 14. u klubu Boombar i Jagodini, 15. Dom omladine u Kragujevcu, 16. Crym klub u Kosovskoj Mitrovici i 17. aprila u Mirage klubu u Prilepu, Makedonija.
(Visited 23 times, 1 visits today)