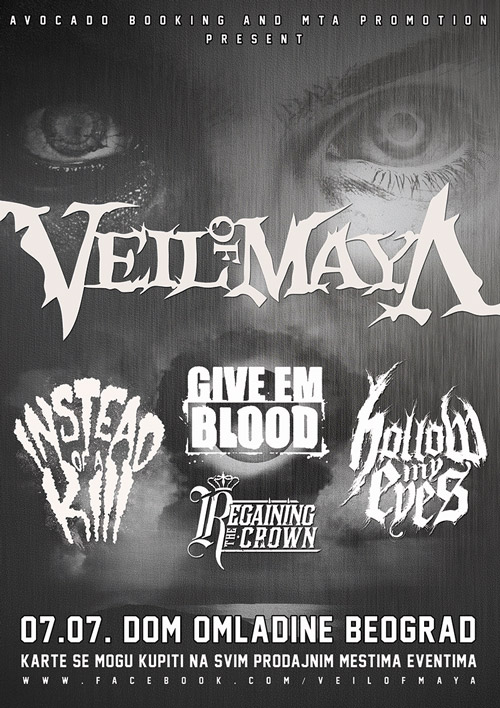 Američki technical/deathcore/djent sastav Veil of Maya nastupiće 7. jula u Domu omladine Beograda, u organizaciji MTA Promotion.
Kao podrška, najavljeni su bendovi Give Em Blood (Austrija), Regaining the Crown (Bosna i Hercegovina), te domaći Instead of a Kill (Beograd) i Hollow My Eyes (Novi Sad).
Bend Veil of Maya trenutno važi za rezidenta navedenog muzičkog pravca. Bend je osnovan u Čikagu 2004. godine. Do sada su objavili četiri studijska albuma, od kojih je poslednji "Eclipse" izašao 2012. godine za prestižnu kuću Sumerian Records, koja je specijalizovana za bendove modernije metal/hardcore orijentacije (The Dillinger Escape Plan, Animals As Leaders, Asking Alexandria, Stick To Your Guns itd.). Ovo će im biti prvi nastup u Beogradu i za tu priliku koncert je smešten u jedan od najboljih klupskih prostora za ovaj tip svirki u regionu, beogradski Dom omladine.
Koncert će pratititi sjajan line up – hardcore/black metal sastav iz Austrije, Give Em Blood, koji je na evropskoj sceni izgradio status rezidenta ove muzike. Ove godine će biti deo "Nova Rock", "Heavy Fest" i "Ghostfest" festivala, kao i deo turneje benda Chelsea Grin sa bendovima The Acacia Strain, I Wrestled The Bear Once i After The Burial. Dalje, tu su pomenuti Regaining The Crown, dolazeći bend iz susedne Bosne, Instead of a Kill i Hollow My Eyes, svaki dostojan predstavnik svog podžanra hard'n'heavy scene u regionu.
Zbog svega navedenog, može se očekivati da će na koncertu vladati atmosfera kakvu nose zbirne turneje popularnih bendova sa aktuelne hardcore i metal scene, a sve podsetiti na eminentne festivale ove vrste u svetu. Da li je Srbija sredina koja može jednom ugostiti i ceo festival ovog tipa? MTA ekipa je napravila odličan uvod, a konačan odgovor će dati publika 07. jula.
Vrata Doma omladine će na dan koncerta biti otvorena od 19h, prvi bend će nastupiti u 20h. Karte se mogu kupiti isključivo putem Eventim prodajne mreže i trenutno koštaju 1100 dinara, a na dan koncerta će biti 1300 dinara.
(Visited 33 times, 1 visits today)