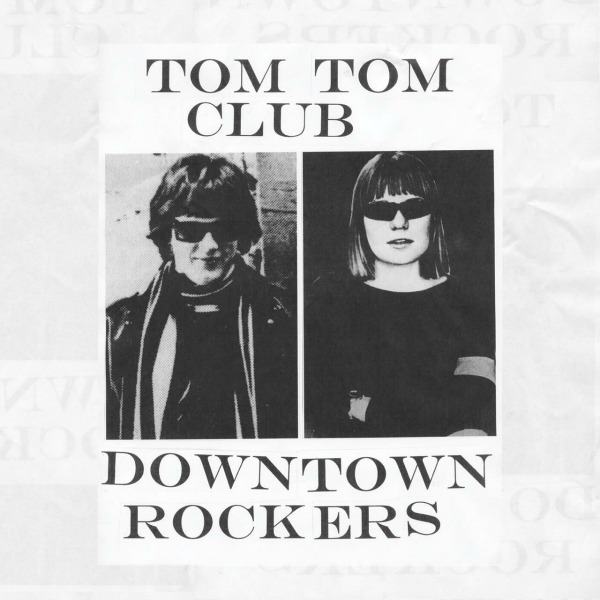 Tina Vejmut (Tina Weymouth) i Kris Franc (Chris Frantz), osnivači Talking Heads-a, a članovi benda Tom Tom Club, vraćaju se na scenu posle cele jedne dekade, sa "Downtown Rockers" EP.
Naslovna numera odaje počast uzbudljivoj muzičkoj sceni Njujorka 70-ih, kao i bendova koji su se tamo ostvarili.
Video predstavlja imena poput Debi Hari (Debbie Harry) i Ričarda Hela (Richard Hell), u režiji Džima Svafilda (Jim Swaffield).
Kris Franc: "Prvi materijal smo snimili smo ubrzo nakon turneje sa Psychedelic Furs u oktobru 2011. godine u našem studiju. Ove pesme su izgrađene od improvizovanih svirki sa Brusom Martinom (Bruce Martin) za klavijaturama i Pablom Martinom (Pablo Martin) na gitari, Tina Vejmut je svirala bas, a ja bubnjeve."
Na isti način smo započeli "Remain In Light" sa Talking Heads. Ovaj put, jedine upute koje smo dali drugima bile su da delovi budu jednostavni, sa puno prostora, kao što bi to Booker T. & the M.G.'s uradili.
Kris Franc i Tina Vejmut su upisani u RnR Kuću Slavnih 2002. godine. Njihov hit "Genius Of Love" (1981) je obrađen i re-miksovan od strane bezbroj muzičara, poput Grendmaster Fleša (Grandmaster Flash), Maraje Keri (Mariah Carey), Tupak Šakura (Tupac Shakur), pa do savremenih poput T.I. i Fergi (T.I. feat. Fergie) i Vilijama Adamsa (Will.I.Am.).
Lista pesama:
1. Downtown Rockers
2. Won't Give You Up
3. You Make Me Rock and Roll
4. Kissin' Antonio
5. Sweets to the Sweet
6. Downtown Rockers (Ed Stasium E-Dub Mix)
7. Downtown Rockers (Arthur Baker Superstar DJ Mix)
8. Kissin' Antonio (Entro & Ginseng Short Mix)
9. Kissin' Antonio (DJ Latin Bitman Mix)
Album možete poslušatati putem strima na sledećem linku.
(Visited 95 times, 1 visits today)