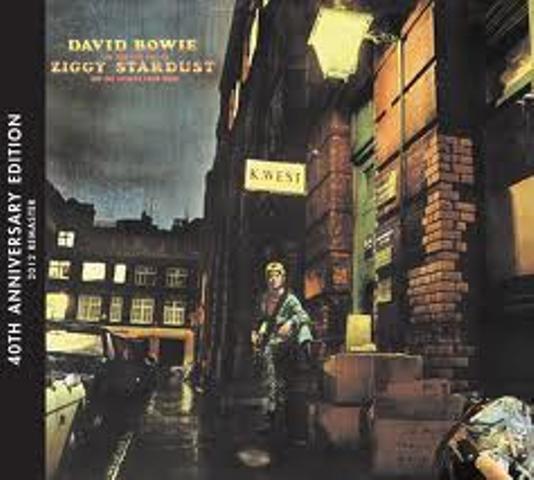 David Robert Jones, mnogo poznatiji pod imenom David Bowie, osnovao je svoj prvi bend The Konrads davne 1962. godine, kada je imao samo 15 godina. Od tada do danas svirao je sa mnogim bendovima i pojedincima.
Njegova muzička karijera traje već pet decenija, a uporedo se bavi i glumom, produciranjem, komponovanjem.
Jedan od ključnih trenutaka u njegovoj karijeri bio je izlazak albuma "The Rise and Fall of Ziggy Stardust and the Spiders from Mars". Kritičari navode da je taj momenat bio važan i u rock muzici jer je David na njemu iskombinovao hard rock, pop muziku i glam rock.
Sledeće nedelje, 06. juna biće 40 godina od izlaska albuma i tim povodom, jedan dan ranije, izdavačka kuća EMI obeležiće ovaj jubilej remasterovanim Ziggy-jem. Ray Stuff, koji je na albumu radio i davnih sedamdesetih godina, uradio je i ovo izdanje.
Album će biti dostupan na CD-u, DVD-ju, kao i u limitiranoj verziji na 180-gramskom vinilu. DVD će sadržati i neke mikseve iz 2003. godine.
Spisak pesama:
1. Five Years
2. Soul Love
3. Moonage Daydream
4. Starman
5. It Ain't Easy
6. Lady Stardust
7. Star
8. Hang On To Yourself
9. Ziggy Stardust
10. Suffragette City
11. Rock 'N' Roll Suicide
(Visited 75 times, 1 visits today)