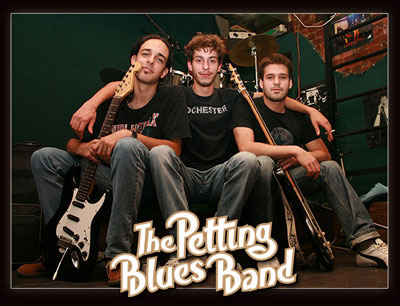 The Petting Blues Band (unplugged)
Caffe Pero, Novi Sad (pasaz Dunavske 27)
Subota 07. 05. 2011.
Početak u 21h, ulaz slobodan.
U do sada neviđenom izdanju. Akustična gitara i klavir. Dođite da zajedno uživamo u čarima klasike, ragtime-a, Allman Bro. Band i ostalih ikona južnjačkog roka. 🙂
---
The Petting Blues Band je nastao sredinom 2008. godine u Novom Sadu. Bend su osnovali Milovan Đuđić "Jimi" i Dejan Zec, sa željom da sviraju i promovišu žanr muzike koji i nije toliko popularan među mladima na ovim prostorima, u nadi da će uspeti da doprinesu vraćanju bluza na domaću scenu.
Bend se posle nekoliko promena članova, prvi put javno pojavljuje početkom 2009. godine svirajući blues hitove i standarde. Od tada kreće sa intezivnijim svirkama po klubovima, festivalima, pub-ovima širom Vojvodine sa istim repertoarom.
Sredinom 2010. godine, The Petting Blues Band postaje trio sastav, gde na nekoliko svirki nastupa kao "Tribute to Jimi Hendrix". Pored toga, na svoj repertoar dodatno ubacuju blues i jazz standarde. Paralelno sa tim, intezivnije kreće sa autorskim radom.
Bend danas sačinjavaju:
Dejan Zec – Zeka (vokal, bass gitara)
Nikola Vučetić – (vokal, bubnjevi)
Milovan Đuđić – Jimi (vokal, gitara)
Zahvaljujemo se svim dobrim ljudima koji nas podržavaju i svima onima koji su prošli kroz ovaj bend i koji su svojim talentom doprineli napredovanju ovog sastava.
Neka od značajnijih mesta u kojima ste imali priliku da nas vidite i čujete:
Mojo klub, Senta
Klub Vox, Beograd
Klub Danguba, Beograd
Klub Trema, Novi Sad
Crni bik, Novi Sad
Blues & Jazz Festival 2009. i 2010. Bačka Palanka
Green pub, Zrenjanin
Bobrock, Titel
Two beers, Nova Pazova
Route66, Novi Sad
(Visited 117 times, 1 visits today)