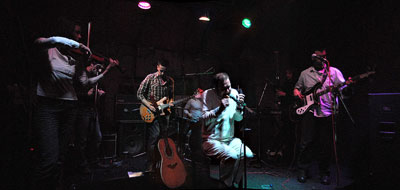 The Mothership Orchestra će u petak 17.06.2011. održati koncert u klubu "Dvorištance", Braće Krsmanović 14, sa početkom u 22h.
Bend će obeležiti godinu dana od svog prvog dugosvirajućeg izdanja "Song For You" i godinu dana od prvog koncertnog predstavljanja albuma koje je održano upravo u "Dvorištancetu". Specijalni gost biće Nebojša Marković (Navigatorz) koji će predstaviti i nekoliko numera sa kompilacije "Maska Sessions", izdanja "Ammonite Records" na kom je i The Mothership Orchestra prisutan sa pesmom "London Breeze" u remiks verziji autorski potpisanoj od strane DJ dua Navigatorz.
Cena karata u pretprodaji bice 200 dinara, a na dan koncerta 300.
{youtube}d953UcMxwYQ{/youtube}
(Visited 76 times, 1 visits today)