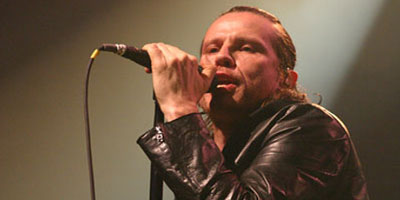 Pevač sastava The Cult Ian Astbury trenutno je najviše okupiran filmskim projektima, među kojima je i prikupljanje novca za novu predstavu Johna Patricka Shanleyja Savage In Limbo.
Astbury će 12. juna u klubu The Bowery Electric na Menhetnu održati neobaveznu akustičnu svirku, a novac od zarade će biti usmeren u produkciju Shanleyjeve predstave.
"Sviraćemo od sedam do devet pesama, šta god budemo hteli da sviramo. Možda ćemo svirati pesme Televisiona, Led Zeppelina, Patti Smith, Bowieja, Doorsa, Culta, šta god nam se bude sviralo", rekao je Billboardu Astbury.
Pored toga, Astbury planira dokumentarni film zasnovan na romanu nobelovca Andrea Smitha Conquest: Sexual Violence and American Indian Genocide.
"To je vezano za matricid, i način na koji naša kultura uništava žene, i još uvek ne radi za njih", objasnio je Astbury.
Pevač Culta trenutno radi na "ideji zasnovanoj na raznovrsnim uticajima japanske ulične kulture" sa Monom Lavelle, ženom Jamesa Lavella iz UNKLE-a, preko koje se upoznao i sarađivao sa Lupe Fiascom.
U planu su i dva kratka filma o severnoameričkim Indijancima – We Defy i Ruins, koji je Astbury opisao kao priču Romea i Julije smeštenu u rezervat.
The Cult će u julu krenuti na svetsku turneju na kojoj će u svirati album Love (1985) u celosti.
Astubury je izjavio da je Love ploča Culta sa kojom se najviše poistovećuje, kao i da se bend posle toga udaljio od postmodernog pristupa.
"To je čist album i u mnogo većoj meri je u harmoniji sa onim gde se sada nalazim u odnosu na ostale naše ploče. To je nešto poput 'Hej, ne želim da moje nasleđe bude Sonic Temple'. Zapanjujuće je koliko mnogo ljudi dolazi i kaže, 'Hej, gde su ti kaubojski šešir i duga kosa?' Tako ne izgledam već oko 16 godina", kaže Astbury.
Izvor:
(Visited 30 times, 1 visits today)