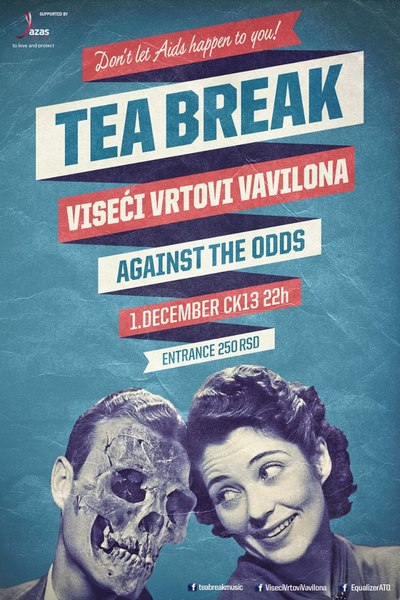 Kao iznenađenje svojim fanovima, kako starim tako i onim koje će tek steći, beogradski punk bend Tea Break i MTV poklanjaju novi album "Second Hand Hero", koji će od utorka 5. jula, biti dostupan za besplatno preuzimanje na web stranicama regionalnog MTV-ja.
Album "Second Hand Hero" sadrži 15 pesama i sniman je u više beogradskih studia. Produkciju albuma potpisuje sam bend, dok je mastering radio Dino Dolničar (AVHouse mastering), dugogodišnji saradnik benda.
Prvi singl sa albuma je pesma "Life Injection" za koju je snimljen video spot koji kreće sa emitovanjem uporedo sa izlaskom albuma.
Tea Break će tokom leta nastupati na 2 festivala: na Exit festivalu (subota 9. jul / Explosive stage) i na Kulpin Festu (subota 23. jul), a od jeseni se najavljuju promotivni koncerti širom zemlje.
Grupa Tea Break ove godine slavi svoj 10. rođendan. Bend čine Igor, Miša, Mlađa i Cookie. Ovo je jedan je od značajnijih sastava sa srpske punk rock scene, koji osnovnu inspiraciju nalazi u radu sličnih bendova sa melodične kalifornijske scene. Iza sebe imaju stotine održanih koncerata u Srbiji i regionu, gde su delili binu sa poznatim svetskim muzičarima poput Deadline, Murphey's Law, Sham 69 kao i domaćim Six Pack, Atheist Rap. Tea Break su i redovni učesnici događaja vezanih za popularizaciju extremnih sportova poput Winner Of Belgrade, World Snowboard Day i Vans Of The Wall Music Night. Konačno su se stekli uslovi da Tea Break početkom sledeće godine planiraju i evropsku turneju.
(Visited 53 times, 1 visits today)