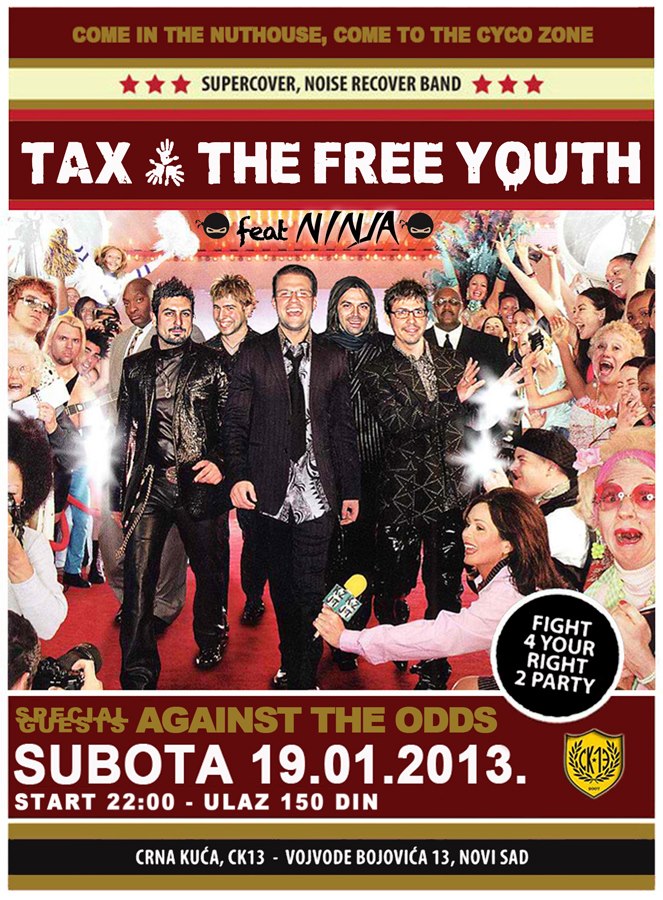 U subotu, 19. januara u Omladinskom centru CK13 održaće se svirka na kojoj će nastupiti: Tax And The Free Youth, Against The Odds i Cocktails.
Tax And The Free Youth je zabavan, drugarski projekat bend nastao u novembru 2010. godine. Uglavnom se bave obradama pesama bendova kao što su: Bad Brains, The Descendents, The Adicts, The Ramones, Black Flag, The Clash, Black Sabbath, Beastie Boys, Beardo, Teengenerate, The Death, OFF!, Hellacopters, Judas Priest, The Seeds, The Trashmen, Blink 182 itd.
Članovi benda su: Jovan Nestorović Nesta ( vokal), Jovan Đokić Joca Afrikanac (gitara), Marko Stanković Maka (bubnjevi), Bojan Kumović (bas gitara) i Stefan Pajević Paja (gitara).
Against The Odds je mladi novosadski bend koji svira californijski punk. Bend trenutno radi na novim stvarima i vežba stare. Najsvežija trenutno je pesma "Saviours" koju možete čuti ovde. Ova pesma govori o tome kako svi očekujemo nečiji spas, a ne shvatamo da smo jedino mi sami sebi pravi spasioci.
Cocktails (ex Switch ) postoji oko godinu dana, sviraju punk rock i uglavnom su to autorske stvari.
Početak svirke je zakazan za 22h, a ulaz je 150 dinara.
(Visited 70 times, 1 visits today)