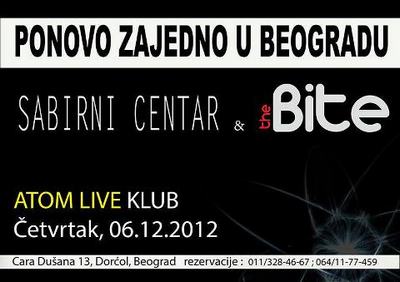 U četvrtak 6. decembra u beogradskom klubu Atom Live, imaćete priliku da poslušate dva odlična benda, Sabirni Centar i The Bite.
Sabirni Centar
je rok bend iz Beograda, osnovan 2010-e godine, koji je nastao da bi okupljao ljude koji vole zvuk klasiènog rokenrola, a takođe oi iz želje da osete neku novu energiju koja je potekla venama "starog giganta".
Misli, reči i tonovi uskoro će se sabrati na prvom albumu ovog mladog benda, a do tada, možete ih slušati uživo po klubovima i festivalima širom zemlje.
 Članovi benda su: Nenad Jovanović (gitara, vokal), Mihailo Arnaut (bubnjevi), Lazar Kačarević (gitara) i Milan Knežević (bas gitara, vokal). 
The Bite
Ideja o bendu koji će imati energiju punk-a, čvrste rock'n'roll rifove, pevljive refrene i osećajnost blues-a javila se još pre mnogo godina. The Bite od početka svira po raznim klubovima u Beogradu i drugim gradovima. Iako najbolje zvuči na velikim koncertima, bend ostaje pri stavu da je kontakt sa publikom veoma bitan, i da ne treba bežati od "malih" svirki. 
Njihova mini turneja pod nazivom "Bez šminke" počela je  u petak, 12. oktobra u Rock klubu "Floyd" u Bečeju, a poslednji u nizu koncerata najavljen je za 8. decembar u Vršcu. Pored ova dva grada, posetili su Jagodinu, Suboticu, Kikindu, Beograd, Negotin, Kladovo i Požarevac. Bend je najavio da tokom decembra ulazi u studio i radi na novom albumu, na kojem će se najverovatnije naći trinaest pesama, a ubrzo možemo da očekujemo i drugi spot. 
Članovi benda su: Julija Vincan (vokal), Bojan Savić (solo gitara), Igor iIić (bas gitara), Mladen Vujović (gitara) i  Milan Nejković (bubnjevi). 
Početak svirke zakazan je za 21 čas, a cena karte iznosiće 100 dinara.
(Visited 1.006 times, 1 visits today)