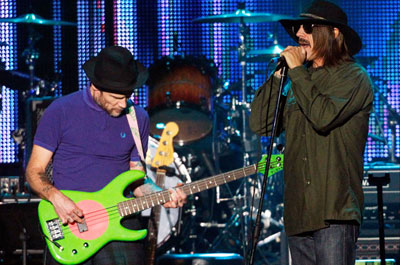 Samo nedelju dana nakon što su Red Hot Chilli Peppers na svojoj oficijelnoj web stranici najavili svoj deseti studijski album "I'm With You", bend je sada objavio i ceo spisak pesama koji će se naći na njemu:
"Monarchy of Roses"
"Factory of Faith"
"Brendan's Death Song"
"Ethiopia"
"Annie Wants a Baby"
"Look Around"
"The Adventures of Rain Dance Maggie"
"Did I Let You Know"
"Goodbye Hooray"
"Happiness Loves Company"
"Police Station"
"Even You Brutus?"
"Meet Me at the Corner"
"Dance, Dance, Dance"
"I'm With You" će biti prvi album Chilli Peppers-a nakon duplog albuma "Stadium Arcadium" iz 2006. godine koji je prodat u 2.3 miliona kopija, prema podatcima Nielsen SoundScan-a. Biće to i prvi album otkako je gitarista John Frusciante službeno drugi put napustio bend 2009. Zamenio ga je Josh Klinghoffer.
"I'm With You" je producirao Rick Rubin, koji je bio producent njihovih pet poslednjih studijskih albuma. Rubin takođe radi i na predstojećim albumima Metallica-e i the Avett Brothers, a nedavno je radio i na Adelle-inom "21".
Uprkos brojnim najavama de će "The Adventures of Rain Dance Maggie" (koji se nalazi na albumu) biti najavni singl koji će biti objavljen 18. jula, predstavnik Chilli Peppers-a je za Billboard.com rekao da to još nije potvrđeno.
(Visited 44 times, 1 visits today)