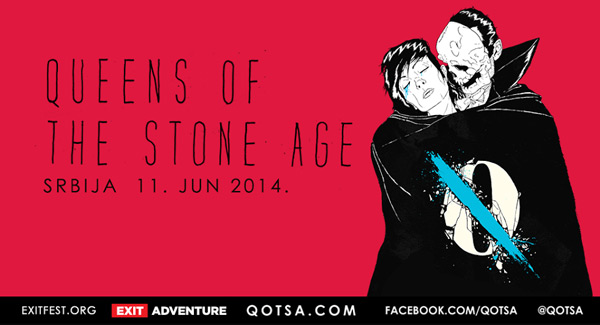 Jedno od najvažnijih rok imena današnjice, bend, projekat, koncept i stav, Queens of the Stone Age, dolaze u junu u Srbiju! Kažu da je 11. jun odličan dan za rokenrol. Zbog toga će ovog datuma EXIT pokrenuti novi jednodnevni rok festival sa Queens of The Stone Age kao hedlajnerima, čime će otpočeti velika letnja EXIT Avantura, koja ovim dobija i svoj osmi dan. I to nije sve – najverniji fanovi EXIT festivala, imaće priliku da biraju grad u Srbiji u kojem će ovaj festival da bude održan!
Sastav koji predvodi muzičar, multiinstrumentalista, muzički producent i dirty rok guru Džoš Hom (Josh Homme), predstaviće svoj poslednji album …Like Clockwork izdat u junu 2013. Ovo je šesti po redu studijski album benda, koji su publika, ali i kritika sjajno prihvatile, što najbolje dokazuje prvo mesto na Billboard 200 listi najboljih albuma u SAD, ali nominacije za dve Grammy nagrade, između ostalog i za najbolji rok album.
Lista saradnika na albumu je impozantna: Elton Džon (Sir Elton John), frontmen benda Nine Inch Nails, Trent Reznor, Mark Lanegan, Nik Olivieri (Nick Olivieri), frontmen benda Arctic Monkeys, Aleks Tarner (Alex Turner), Džejk Širs (Jake Shears) iz Scissor Sisters, kao i stari, dobri prijatelj bend, Dejv Grol (Dave Grohl, Nirvana, Foo Fighters). QOTSA poznati su po kolaboraciji sa relevatnim muzičarima, a najskoriji primer je nastup supergrupe sastavljene od Nine Inch Nails, Queens of the Stone Age, Dave Grohla i Lindzija Bakingama (Lindsey Buckingham) iz benda Fleetwood Mac, koja je zatvorila ovogodišnje Grammy nagrade uz veliki prasak i kontroverze.
Masni rokenrol zvuk sastava QOTSA na muzičkoj sceni dominira već sedamnaest godina, od 1997. kad ga je oformio Džoš Hom, jedna od najuticajnijih ličnosti u rok muzici i jedan od osnivača kultnog sastava Kyuss i član bendova Eagles Of Death Metal i Them Crooked Vultures (sa Dejv Grolom i Džon Pol Džonsom (John Paul Jones) iz Led Zeppelina). Sastav je do sad osvojio mnogobrojna priznanja publike i kritike i šest puta je nominovan za Grammy nagradu.
Pored nastupa u Srbiji, 11.06., Queen of the Stone Age će dva dana ranije, 9.06. održati koncert u Križankama u Ljubljani, kao i dan kasnije, 10.06. u dvorištu Velesajma u Zagrebu.
Ove godine nikad kraja iznenađenjima! Pratite zvanični sajt EXIT festivala, www.exitfest.org, kao i zvaničnu Facebook stranicu ovog događaja www.facebook.com/QOTSAinSerbia i budite u toku sa svim svežim informacijama o novom festivalu. Pripremite se za nezaboravno leto i nikada luđu EXIT AVANTURU!
(Visited 70 times, 1 visits today)