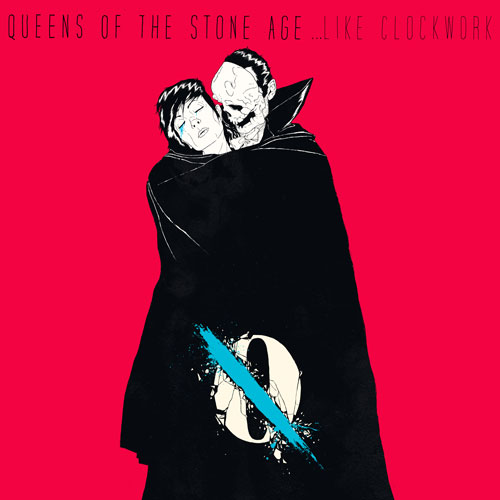 Članovi benda Queens Of The Stone Age objavili su najavni video za novi album "…Like Clockwork", koji će se u prodaji naći u prvoj nedelji juna ove godine. Video traje 23 sekunde, a prikazuje vinil verziju pesme u kojoj sa bendom peva Elton Džon (Elton John).
Na dugo očekivanom albumu koji izlazi posle šestogodišnje diskografske pauze, koliko je prošlo od prethodnog izdanja "Era Vulgaris", pojaviće se mnogobrojni gosti među kojima su osim Elton Džona i Trent Reznor (Trent Reznor), Mark Lanegan, Džejk Širs (Jake Shears) iz grupe Scissor Sisters i Brodi Dejl (Brody Dalle) iz benda The Distillers. Pored njih, u sastav se vratio basista Nik Oliveri (Nick Oliveri), a za bubnjevima će se naći Dejv Grol (Dave Grohl) iz Foo Fighters-a koji ponovo sarađuje sa članovima benda Queens of the Stone Age. Grol je već radio sa njima na albumu "Songs for the Deaf", i u zajedničkom projektu sa Džošom Houmom (Josh Homme) – Them Crooked Vultures.
Nakon službene najave novog studijskog albuma, QOTSA najavili su i kako će ove godine krenuti na veliku svetsku turneju. Nakon festivala u Brazilu gde su nastupali krajem marta, kao i u Španiji početkom aprila, svirke ih čekaju i na festivalima u Švedskoj, Finskoj, Luksemburgu, Danskoj, Poljskoj, i Mađarskoj.
Naslovnicu za šesto izdanje grupe potpisuje britanski umetnik Boneface, a na albumu se nalazi deset pesama.
1. Keep Your Eyes Peeled
2. I Sat By The Ocean
3. The Vampyre of Time and Memory
4. If I Had A Tail
5. My God Is The Sun
6. Kalopsia
7. Fairweather Friends
8. Smooth Sailing
9. I Appear Missing
10. …Like Clockwork
(Visited 70 times, 1 visits today)