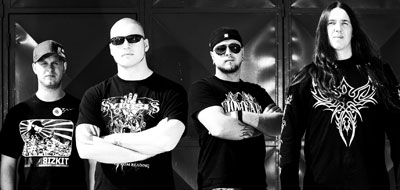 The Stupar Project (tSP) nastao je početkom 2010. kao "one man band" projekat. Osnivač, Slobodan Stupar, inspiriran muzikom bendova kao što su Hatebreed, Slayer, Pantera, Sepultura i mnogi drugi, snimio je demo nazvan "Through My Eyes" s 9 pesama u studiju "Crna Zemlja" Maria Markovića.
Takođe je snimio i dva spota za pesme "The End Of Our Time" i "Fuck You!". One man band postaje pravi bend pridruživanjem novih članova početkom 2011. godine. Dok je novoformirani sastav uvežbavao materijal s dema, Slobo je snimao novi materijal u "Crnoj Zemlji". Rezultat toga je EP "Balkan Bastards" koji sadrži 3 pesme.
tSP svira hardcore groove metal. I trenutni sastav benda je:
Slobodan Stupar – gitara, vokal
Andrej Mesarić – bas gitara, prateći vokal
Boris Ognjenović Speed – gitara
Filip Mesarić – bubnjevi
Najaktuelnije u vezi tPS je da su u saradnji s Vedranom Marjanovićem Weksterom snimili spot za pesmu "Against All Odds".
Što bi rekli Englezi: Enjoy!
{youtube}CSDbXVu01UM{/youtube}
(Visited 37 times, 1 visits today)