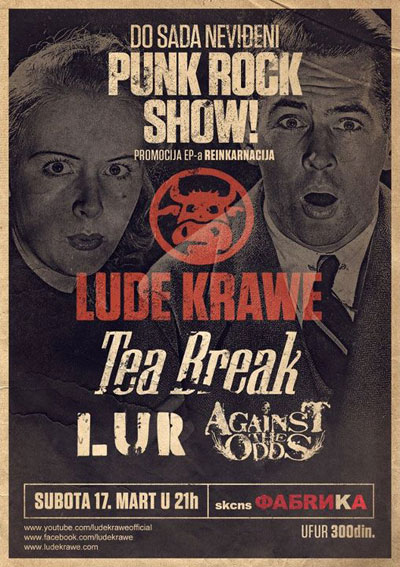 U novosadskoj SKC Fabrici u subotu 17. marta očekuju vas četiri benda.
Zvezde večeri biće bend Lude Krawe iz Bačkog Petrovca koji će promovisati nedavno objavljeni EP "Reinkarnacija". Kao podrška nastupaju bendovi Tea Break, L.U.R. i Against the Odds.
Kragujevačkog bend Ludak u razvoju sviraće vam pesme sa svog aktuelnog albuma "Hteo to ili ne". A tu su i Tea Break iz Beograda koji su u decembru imali novosadsku promociju albuma "Second Hand Hero".
Mladi novosadski bend Against the Odds je ovih dana imao snimanje u okviru projekta Demonstracija mladosti te eto prilike za još jednu demonstraciju onoga što znaju.
Cena karte u pretprodaji je 300 dinara, broj je ograničen, a mogu se nabaviti u CD shopu Mungos.
Početak je zakazan za 21h.
(Visited 18 times, 1 visits today)