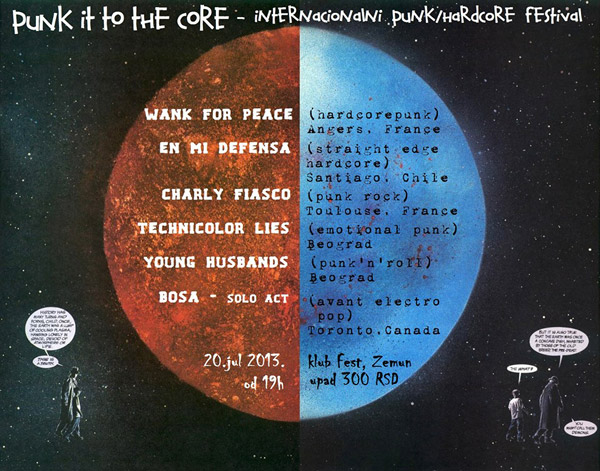 U subotu, 20. jula sa početkom u 19 časova u popularnom zemunskom klubu Fest, održaće se Međunarodni jednodnevni punk/hardcore festival koji će okupiti bendove sa tri kontinenta: Južne Amerike, Evrope i Severne Amerike.
Nastupaju:
Melodični hardkor pank pod uticajem bendova Kid Dynamite, Strike Anywhere iz francuskog grada Anže. Iza sebe imaju imaju nekoliko EP-eva i jedan album. Do sada su odradili više evropskih i jednu severno američku turneju, odsvirali preko 200 koncerata i delili binu sa bendovima poput A Wilhelm Scream, The Flatliners, Dead to Me, Atlas Losing Grip…
Strejt eddž hardkor bend iz Čilea koji je jedan od vodećih latino američkih hardcore bendova. Nazivaju ih južno američkim Have Heart-om. Prešli su 12500 kilometara da bi nas oduvali svojom energijom i emocijom. Do sada su izdali 3 albuma i svirali po celoj Južnoj i Centralnoj Americi i Evropi.
Pank rok bend pod uticajem bendova The Queers, Dillinger Four, NOFX koji nam dolaze iz francuskog grada Tuluza. Do sada su bili koncertno veoma aktivni po Evropi, čak su za vreme svog postojanja uspeli da organizuju turneju po severnoj Africi.
Pank bend iz Beograda koji se ne može lako uklopiti u bilo koji određeni muzički žanr i koji odlikuje sirova energija na svojim živim nastupima. Do sada su izdali jedan EP sa 5 pesema i do kraja godine se može očekivati novi materijal.
Beogradski bend koji gaji svoj specifičnan muzički izraz koji karakterišu energične pesme brzog tempa sa glasnim emotivnim nabojem, oštrinom pank roka i često eksperimentalnim pristupom post-hardcore-a. Uskoro se može očekivati njihov prvi EP.
Solo projekat Kanađanina srpskog porekla i bivšeg pevača priznatog kanadskog pop pank benda Lacerda sa kojim je prošao celu Severnu Ameriku uzduž i popreko, između ostalog ceo Warped Tour 2011. i 2012. Ovo mu je prvi nastup sa druge strane okeana i to baš u svom rodnom gradu.
Cena ulaznica iznosiće 300 dinara.
(Visited 63 times, 1 visits today)