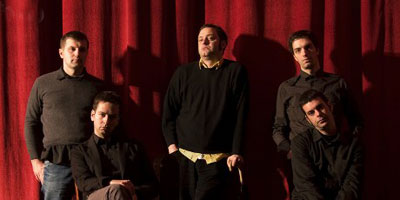 Sastav The Mothership Orchestra je izbacio prvi singl sa svog debi albuma Song For You, pesmu You're Amazing.
Singl, kao i ostale pesme sa albuma, dostupan je za besplatan download na online etiketi Popboksa – Silos.
U pripremi je i spot za ovu pesmu.
The Mothership Orchestra su: Dragomir Smiljanić (bubanj), Ivan Tešić (bas gitara, vokali), Ivan Trajković (električna gitara, vokali), Marko Ćebić (akustična gitara, vokali), Vera Bukvić (violina) i Lazar Šijak (vokali, udaraljke).
Na albumu Song For You su svirali i: Nebojša Đuričić (harmonika), Bisenija Peruničič (flauta), Julijana Marković (violončelo), Dušan Petrović (saksofoni), Bora Veličković (trube), Vojislav Jocić (fagot), Dragan Lazović (truba) i Valentin Vasić (usna harmonika).
Song For You je treće izdanje u okviru Silos-a.
Kao prvo izdanje u okviru online etikete Silos, za besplatan download je postavljen maksi singl sastava Slaptrap Prokrastinacija, a kao drugo istoimeni debi album sastava Zerkman Big Bang.
(Visited 46 times, 1 visits today)