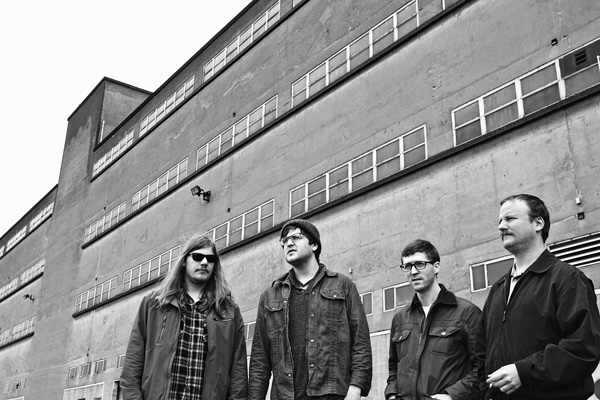 Protomartyr, američki post-pank bend, dolazi u zagrebačku Tvornicu kulture u utorak 19. aprila 2016. godine.
Bend je osnovan 2008. godine u Detroitu, a čine ga vokal Džo Kejsi (Joe Casey), Greg Ahi (Greg Ahee) na gitari, Aleks Leonard (Alex Leonard) na bubnjevima i Skot Dejvidson (Scott Davidson) na bas gitari. Protomartyr testira granice između garažnog roka i post-panka stvarajući svoj zvuk koji je drugačiji, neočekivan i nebrušen. Zvuk Protomartyra uspoređuju sa bendovima Wire, The Fall, Pere Ubu, Constantines i Iceage, dok vokal Džo Kejsija neki uspoređuju sa onim Ijana Kurtisa (Ian Curtis) ili Nika Kejva (Nick Cave).
Debitantski album No Passion All Technique su izdali 2012. godine, nakon čega je usledio EP Colpi Proibiti. 2014. godina donosi hvaljeni album Under Color of Official Right koji je kotirao jako dobro kod muzičkih kritičara. U tom periodu bend je bio na turnejama po SAD-u, Evropi, svirao na festivalima kao što su SXSW, CMJ Music Marathon ili Pitchfork Music Festival. Najnoviji album je The Agent Intellect objavljen u oktobru prošle godine najavljen singlom "Why Does It Shake", a sa njega je skinut i "Dope Cloud", te najnoviji "I Forgive You". I ovaj album dobio je odlične recenzije u medijima kao što su Pitchfork ili NME, a kritika hvali njihov mračni i introspektivni album, gorke tekstove i smatra da Protomartyr oživljavaju post-pank.
Nedavno su odradili turneju po Engleskoj sa kanadskim "noise" rok triom Metz, dok njihova nedavna evropska turneja je uključivala nastupe po Nemačkoj, Francuskoj, Belgiji ili Holandiji. Prilika za videti ih u regionu je proleće kada dolaze u Zagreb i Tvornicu kulture.
Ulaznice su u pretprodaji po ceni od 55, dok će na dan koncerta iznositi 70 kuna. Službena prodajna mesta: Tvornica kulture (Ljudevita Posavskog 1), Aquarius CD shop (Varšavska 1), Dirty Old Shop (Tratinska 18) i putem sajta www.entrio.hr.
Organizator koncerta je Tvornica kulture.
(Visited 131 times, 1 visits today)