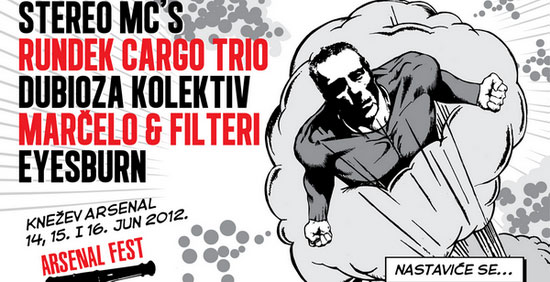 Nakon objave učesnika Popboks bine na Arsenal festu, sada su poznati i učesnici prvog i poslednjeg dana koji će zasvirati na maloj bini, kao i satnica nastupa.
Radio 9 bina, 14. jun
20:15-21:00 Za dž
21:15-22:15 Baobab
22:30-23:30 Boneyard
23:45-00:30 Sharks, Snakes & Planes
00:45-02:00 Mravi
Popboks bina, 15. jun
20:15-21:00 bend po izobru čitalaca Popboksa
21:15-22:15 Goribor
22:30-23:30 Stray Dogg
23:45-00:45 Plišani mališan
01:00-02:00 Temple of the smoke
MTV bina, 16. jun
20:15-21:00 Žene kese
21:15-22:15 Tea Break
22:30-23:30 Kandžija
23:45-00:45 Trash Candy
01:00-02:00 Maraqya
Podsećamo da će mala bina biti smeštena u Zastavinoj bašti, a poslednji učesnik Popboks bine biće poznat nakon završetka glasanja na sajtu Popboksa.
Pojedinačna ulaznica košta 700 dinara, komplet 1.500,00. Cene važe do 04. juna.
Prodajna mesta:
Beograd – Dom omladine,
Kragujevac – Dom omladine, Music shop Dr Studio, KG Polis (Ulica Glavna 59),
Čačak – caffe-club Velvet,
Kraljevo – caffe-club Sotto Sopra,
Jagodina – TNT Music,
Smederevska Palanka – Irish club Dr Watson,
Kruševac – caffe-club Grizzly.
Ulaznice za Arsenal fest se mogu kupiti i preko mreža Eventim i Card Service.
(Visited 53 times, 1 visits today)