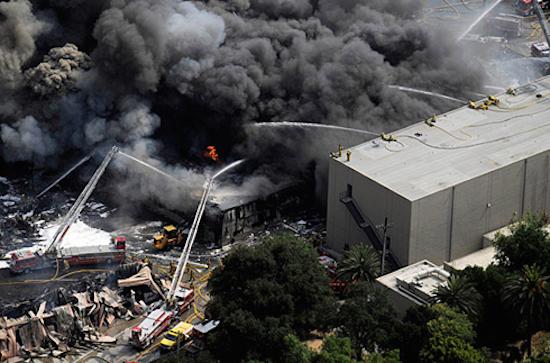 Pre jedanaest godina požar koji je zahvatio studio Universal u Holivudu uništio je master snimke nastajale decenijama. Požar je divljao 24 sata 1. juna 2008., ali za izgubljene snimke nije se znalo sve dok The New York Times nije objavio velik članak koji je ovu tajnu prvi put objavio svetu.
Požar je uništio nekoliko slavnih filmskih setova i atrakcija, ali i famoznu Zgradu 6197 koja je služila kao arhiva studija.
Dosad se izveštavalo o izgubljenim filmskim trakama, ali nije bilo poznato da je arhiva sadržavala i audio snimke. Studio je pokušao prikazati štetu muzičke arhive zanemarljivom, ali sada saznajemo da je izgubljeno gotovo 500,000 pesama mnogih kompanija koje je Universal otkupio tokom godina. U pitanju su između ostalih Decca, legandarna bluz kuća Chess te džez etiketa Impulse. Tu su i MCA, ABC, A&M, Geffen te Interscope. Gotovo sve ove master snimke, kompletne diskografije pojedinih izvođača i etiketa, izgubljene su u požaru.
Neka od imena izvođača čije su trake izgubljene su Al Grin, Rej Čarls, Elton Džon, B.B. King, Luj Armstrong, Nirvana, Snoop Dogg, Čak Beri,, Badi Holi, Tom Peti, Džoan Baez, Nine Inch Nails, Nil Dajmond, Cat Stevens, Erik Klepton, R.E.M. Hole, The Eagles, Aerosmith, Rufus and Chaka Khan, Beri Vajt, Police, Sting, Steve Earle, Dženet Džekson, Guns N' Roses, Mary J. Blige, No Doubt, Beck, Šeril Krou, Tupak Šakur, Eminem, Fats Domino, Soundgarden, Sun Ra, Areta Frenklin, Dizi Gilespi, The Roots i mnogi drugi.
(Visited 30 times, 1 visits today)