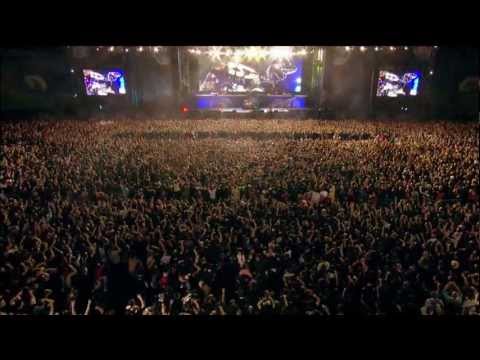 "Bilo je to jedinstveno iskustvo u našim životima" zahvalili su publici članovi Metallica-e nakon dvodnevnog Orion Music + More festivala koga su legendarni metalci organizvali prvi put 23. i 24. juna na Bader Fildu, u blizini Atlantik sitija (Nju Džersi).
"Godinama nastupamo na najvećim muzičkim festivalima širom sveta, pa smo odlučili da osnujemo svoj ovde u Americi, sa ciljem da se svi dobro provedemo i podelimo muzička iskustva sa fanovima" – objavljeno je na sajtu Metallica-e u februaru kada su najavili Orion Music + More festival.
Metallica je nastupala obe večeri – prve su svirali ceo "Ride the Lighting" iz 1984. godine, što se nikada pre nije dogodilo, a drugog dana festivala takozvani "The Black Album" povodom dvadeset godina od njegovog izlaska.
Gitarista benda, Kirk Hammett, u intervjuu za CBS Local, rekao je: "Znam da sviram 'Ride The Lightning' i unapred i unazad. Nije kao u slučaju sa 'The Black Album'-om na kom se nalaze tri ili četiri pesme koje retko izvodimo. Tokom godina svirali smo većinu materijala sa 'Ride The Lightning' izuzev pesme 'Escape.' Bile su to lagane pesme za uvežbavanje. Uložili smo više energije u uvežbavanje pesama sa 'The Black Albuma."
Osim njih sviralo je još 37 muzičara i bendova različitih žanrova: thrash metal, black metal, punk, indie, experimental rock. U nastavku pročitajte line up, a onda pogledajte koncert Metallica-e od prve večeri i rekapitulaciju drugog dana festivala.
Metallica
Avenged Sevenfold
Arctic Monkeys
Modest Mouse
The Gaslight Anthem
Eric Church
Cage the Elephant
Fucked Up
Volbeat
Best Coast
Liturgy
Hot Snakes
Gary Clark JR.
Titus Andronicus
Lucero
Rock Erickson
The Black Angels
Baroness
The Sword
Wooden Shjips
Ghost
A place to Bury Strangers
Charred Walls of the Damned
Soul Rebels
Damage Inc Stage:
Sepultura
Torche
The Black Dahlia Murder
Red Fang
Kyng
Suicidal Tendencies
Landmine Marathon
Black Tusk
Letlive
Thy Will Be Done
(Visited 78 times, 1 visits today)