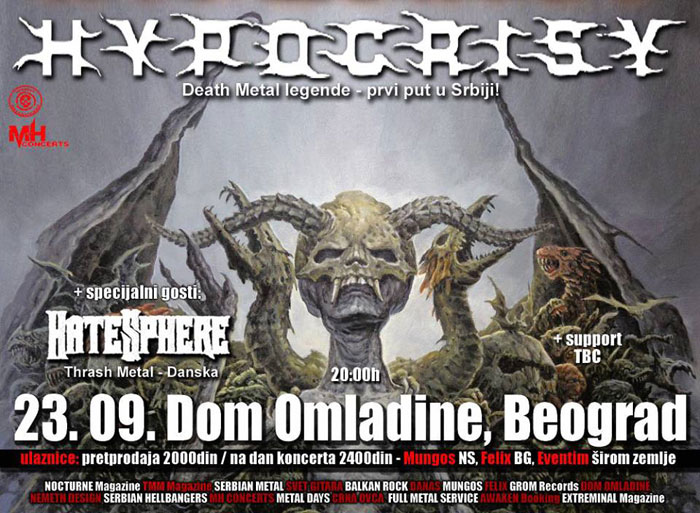 Kao i što smo najavili, dva velika metal koncerta održaće se u narednom periodu u beogradskom Domu omladine. Reč je o koncertu švedskog benda Hypocrisy i finskog Children Of Bodom. Od pre par dana krenula je i zvanična prodaja karata o čemu imate više reči u nastavku teksta.
Uz Hypocrisy nastupaće i specijalni gosti, danski metal bend Hatesphere, dok se koncert dešava u Domu Omladine, 23. septembra 2013. godine.
Pretprodaja:
od 21.08. Felix, Beograd + Eventim prodajna mesta
od 22.08 Mungos, Novi Sad + Eventim prodajna mesta
pretprodaja = 2000 dinara, na dan koncerta = 2400 dinara
Finska hevi metal grupa Children Of Bodom nastupiće 18. novembra u beogradskom Domu Omladine. Na poziciji organizatora nalazi se slovenački Metal Holiday, koji će Fince, dan nakon nastupa u Beogradu, dovesti i u Ljubljanu.
Pretprodaja:
od 21.08. Felix, Beograd + Eventim prodajna mesta
od 22.08 Mungos, Novi Sad + Eventim prodajna mesta
pretprodaja = 2000 dinara do 1/10/2013
pretprodaja = 2400 dinara od 1/10/2013
na dan koncerta = 3000 na dan koncerta
(Visited 96 times, 1 visits today)