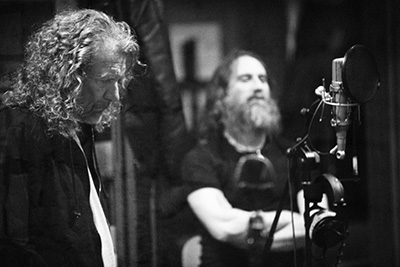 Robert Plant zahvalio se frontmenu grupe Genesis, Filu Kolinsu (Phil Collins), jer ga je ohrabrivao da započne solo karijeru.
Takođe otkriva da je pozitivnost ovog vokaliste i bubnjara imala trajan uticaj koji mu je bio potreban da nastavi dalje nakon raspada benda Led Zeppelin 1980. godine, nakon smrti bubnjara Džona Bonama (John Bonham).
Plant za The Puls Of Radio je rekao da je morao da napusti svoj posao i da počne iznova u 32. godini.
"To je histerično, zaista, kada sad mislite o tome. Ali, radio sam sa Robijem Blantom (Robbie Blunt), koji je bio jako dobar gitarista. I imao sam svoja prva dva solo albuma 'Pictures at Eleven' i 'The Principle of Moments'". Bubnjar me je kontaktirao i rekao: "Ja veoma volim Bonama i želim da sedim iza tebe kad pevaš.". Bio je to Fil Kolins. Njegova karijera je tada bila u usponu i bio je veoma pozitvna i osoba puna duha, koji je bio pun ohrabrenja.
Plant je nedavno završio turneju u Velikoj Britaniji i Irskoj, gde je promovisao svoj najnoviji album Lullaby And… The Ceaseless Roar i konstantno je pritom govorio da nema šanse da se bend Led Zeppelin ponovo okupi.
(Visited 96 times, 1 visits today)