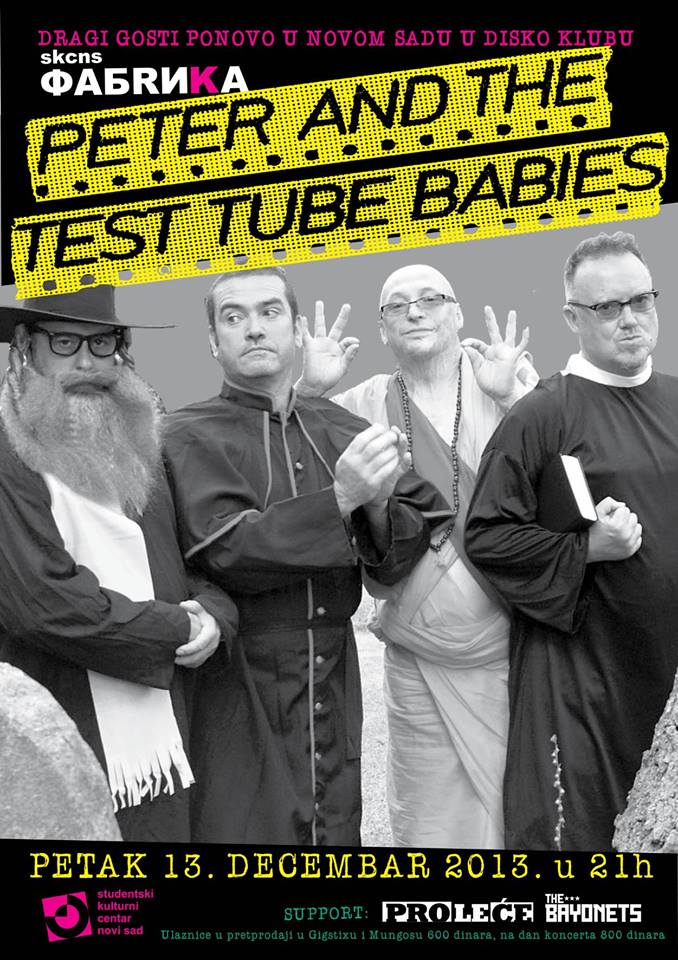 Prosto neverovatno zvuči podatak da Peter And The Test Tube Babies nisu bili u Novom Sadu punih pet godina! Ekipa iz SKC Novi Sad potrudila se oko organizacije koncerta i dovodi ih u petak 13.12. u svoj klupski prostor Fabrika (Bulevar Despota Stefana). Dan ranije nastupiće i u zagrebačkom Vintage Industrial Baru.
Obzirom da smo se uželeli jedni drugih a da su u 2012. godine Peter i ekipa objavili dva albuma gotovo u isto vreme (For A Few Bullets More i album sa obradama Piss Ups), najlogičnije je bilo da se dogovori koncert u Fabrici. Bend uz čije hitove su odrastale generacije lokalnih panksa i koji je bio uzor mnogim novosadskim bendovima, osim repertoara sa novog albuma izvešće i redovan set himni poput: "Jinx", "Spirit Of Keith Moon", "Banned From The Pubs", "Never Made It", "Keep Britain Untidy", "Moped Lads"…
"U jednom momentu koncert koji je najavljen još proletos bio je pod znakom pitanja, potom je vrlo lako mogao da se dogodi neželjeni scenario odnosno da u isto vreme jedni naspram drugih sviraju Piteri i Madball… Ovako, uspeli smo da PTTB pomerimo za petak trinaesti tako da vas očekujemo u Fabrici, bez izgovora!" poručuju organizatori.
Karte, po pretprodajnoj ceni od 600 dinara, možete kupiti u CD šopu Mungos (Zmaj Jovina 2 – pasaž) i na prodajnim mestima GIGSTIX-a.
Na ulazu karte će se prodavati po ceni od 800 dinara.
Kao podrška na ovom koncertu nastupiće bendovi Proleće i The Bayonets.
(Visited 77 times, 1 visits today)