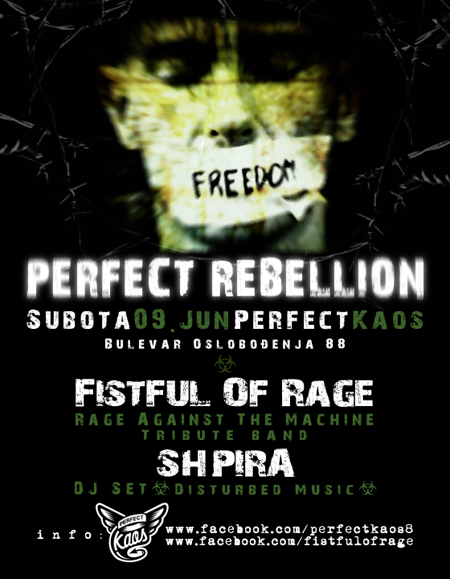 U subotu 09. juna od 22h u klubu Perfect Kaos (Bulevar oslobođenja 88, Novi Sad) sviraće Fistful of Rage, a u drugom delu večeri muziku će puštati DJ Shpira.
Fistful of Rage je novosadski Rage Against The Machine tribute band.
Priča o nastanku benda tekla je ovako: " Ideja o RATM tribute bandu bezgrešno je začeta početkom XIX veka, nesvesno, u potpunom delirijumu mladog Karl Marksa. Kroz vreme, ideja se potucala po prašnjavim hodnicima kritike građanskog društva, da bi tek početkom XXI veka, jednog dosadnog dana eksplodirala u glavama dokonih mladića željnih promena. Realizacija ove ideje ispostavila se kao mukotrpan proces koji je trajao više od dve godine. Na kraju, posle burnih kadrovskih sistematizacija i višečasovnih partijskih sastanaka u kombinatu (u vidu muzičkih proba), oformljena je jedinstvena radna jedinica, nepokolebivo jezgro sačinjeno od četvorice proletera rešenih da na svojim plećima iznesu breme pomenutih revolucionarnih misli. Ova neustrašiva skupina, hrabro gazeći krupnim koracima napretka odaje počast bendu Rage Against The Machine i njihovoj viziji slobode, jednakosti i bratstva."
DJ Shpira će svojoj set listom upotpuniti veče savršene pobune u savršenom haosu.
(Visited 34 times, 1 visits today)