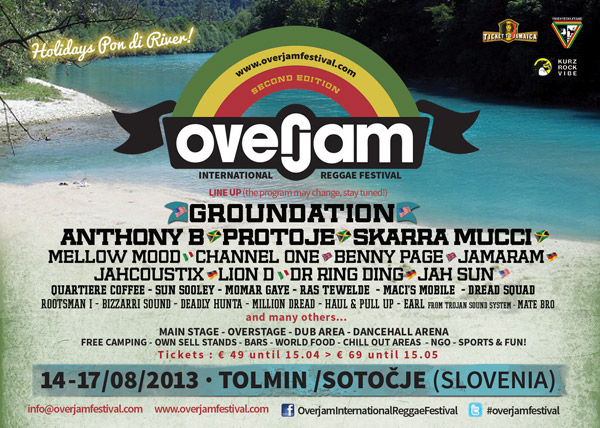 Od 14. do 17. avgusta u idiličnom ambijentu Tolmina, na ušću reka Tolminka i Soča, održaće se Overjam međunarodni rege festival. Vrhunske reggae zvezde iz celog sveta obećavaju četiri nezaboravna dana.
Na nekoliko festivalskih pozornica nastupiće veliki broj izvođača različitih rege podžanrova.
MAIN STAGE: Groundation, Anthony B, Skarra Mucci, Protoje & The Indiggnation, Mellow Mood, Jamaram, Jahcoustix, Lion D, Jah Sun, Momar Gaye, Sun Sooley, Rootsman I outta Train To Roots, Millions Of Dreads, Raphael, Ras Tewelde, Hornsman Coyote, Quartiere Coffee, Winner Rototom EU Contest i mnogi drugi.
DANCEHALL AREA: Dreadsquad, Earl iz Trojan Sound System, Benny Page, Deadly Hunta, Doctor Ring Ding, Kali, SuedMassive + Rebel Elements, Bizzarri Sound, Roots in Session, Pakkia Crew, Freedom Fighters, Resystem Crew, Haul & Pull Up + Isal Sound, Burnin Fyah, itd.
DUB AREA: Channel One, OBF, Melkizedek Sound, Moa Anbessa, Rockers Dub Master, Roots Daughters, Djane Sista, itd.
OVERSTAGE: Maci's Mobile, Jammy Youth & Lazy Face, Dub Spencer & Trance Hill, Waipatu, Bro, Arawak, i drugi.
BEACH YARD: veliki broj bendova iz cele Evrope nastupiće u popodnevnim satima na obali reke Soče.
U okviru festivala održavaće se puno dnevnih aktivnosti uključujući radionice nevladinih i neprofitnih organizacija, radionice plesa i bubnjeva, sportske aktivnosti, itd. Takođe će biti postavljene tezge za prodaju umetničkih dela, hrane, pića, i slično.
Overjam, festival koji se održava na granici tri države, ima za cilj da postane simbol integracije i mira, kao i spoj različitosti.
(Visited 27 times, 1 visits today)