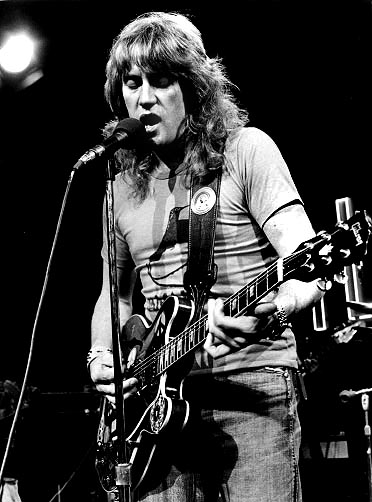 Čuveni britanski rok gitarista i pevač, Alvin Li (Alvin Lee/Graham Alvin Barnes ), preminuo je u sredu, 6. marta, u 68. godini, od komplikacija nakon rutinskog hirurškog zahvata.
Alvin Li, bio je pevač i vodeći gitarista popularnog bluz- rok benda Ten Years After.
"Izgubili smo divnog i voljenog oca i prijatelja, svet je izgubio zaista velikog i talentovanog muzčara", navodi se u izjavi porodice povodom velikog gubitka.
Alvin Li rođen je 19. decembra 1944. godine u Notingemu. Gitaru je počeo svirati sa 13 godina, a sa samo 15 godina, zajedno sa Leom Lionsom (Leo Lyons) osnovao je "jezgro" benda Ten Years After.
Profesionalno je počeo svirati gitaru 1962. godine u bendu The Jaybirds, koji nakon preseljenja u London menja ime u Jaybirds, te kratko u Blues Yard i konačno u Ten Years After, koji je stekao svetsku slavu.
Prvi album "Ten Years After" bend je snimio 1967. godine, a svoju najveću slavu stekao je nakon nastupa na festivalu Woodstock 1969. godine, koji je i pored tehničkih poteškoća, bio izuzetno uspešan. Naime, njihov 12-minutni bis nakon izvođenja pesme "I'm going home" ovekovečen je i prikazan u dokumentarcu Woodstock-a iz 1970. godine, a mnogi ga smatraju jednim od vrhunaca legendarnog dešavanja. Nakon tog nastupa Alvin Li postao je idol mnogim mladim gitaristima.
Pored "I'm going home" bend je najpoznatiji po pesmama "Hear me calling", "I'd love to change the world" i "Love like a man".
Nakon snimljenih deset albuma, 1973. godine, tačnije nakon drugog Columbia LP-a "Rock & Roll Music to the World", Alvin Li je napustio bend i otpočeo solo karijeru, ali se ponovo vratio u bend, 1988. godine.
Ten Years After snimio je 11 studijskih albuma u periodu od 1966. godine do 2008. godine.
Alvin Li iza sebe je ostavio brojne solo albume:
"On the Road to Freedom" (sa LeFevreom (Mylon LeFevre), 1973)
"In Flight" (1974)
"Pump Iron!" (1975)
"Let It Rock" (1978)
"Rocket Fue"l (1978)
"Ride On" (1979)
"Free Fall" (1980)
"RX5" (1981)
"Detroit Diesel" (1986)
"Zoom" (1992)
"Nineteen Ninety-Four" (1994)
"In Tennessee" (2004)
"Saguitar" (2007)
"Still on the Road to Freedom" (2012)
Omiljena gitara bila mu je Gibson 335.
(Visited 69 times, 1 visits today)