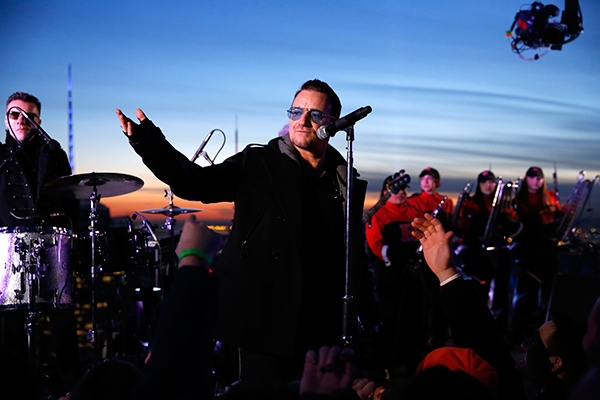 Od 11. februara imate priliku da pogledate novi spot popularnog benda U2 za pesmu "Invisible" koja dolazi sa budućeg dugo očekivanog albuma. Pred vama je sad i lajv izvođenje iste od 17. februara u The Tonight Show sa Džimijem Falonom (Jimmy Fallon).
Od njihovog poslednjeg izdanja No Line on the Horizon je prošlo pet godina. Produkciju pesme "Invisible" potpisuje Danger Mouse, dok je za režiju bio zadužen Mark Romanek.
Nova pesma je i deo nove humanirane akcije – za svaki download preko servisa iTunes, Bank Of America će uplatiti po jedan dolar u fond kampanje RED.
Bono je o novom albumu, koji je još uvek u fazi snimanja i miksanja, izjavio da predstavlja širok raspon uticaja – od grupe Ramones pa do zvuka kakav su imali Kraftwerk. Takođe, izjavio je i kako nova pesma jeste sa novog albuma, tj. da je prva koju su završili, ali da ona nije prvi singl! Postoji druga pesma kojoj pripada ta pozicija, te da su sa "Invisible" samo najavili svoj novi projekat i podsetili ljude da postoje.
Pogledajte spot, a pogledajte i novi lajv.
"You don't see me but you will
I am not invisible
I am here"
(Visited 66 times, 1 visits today)