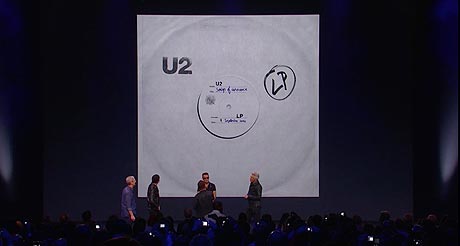 Nakon dosta spekulacija oko samog albuma i datuma izlaska, grupa U2 je juče, potpuno neočekivano objavila novi album Songs of Innocence. I pored toga što su najavili da će izaći do kraja 2014. godine, niko nije očekivao da će se to desiti juče na Apple-vom događaju.
Iznenađujuća objava albuma dogodila se juče, 9. septembra na predstavljanju novim Apple-ovih uređaja (iPhone 6, Apple Watch,…), koji je odmah nakon toga postavljen na servis iTunes. Sve što je potrebno je da imate muzičku aplikaciju na svom iOS uređaju ili PC računaru i možete početi da preslušavate novi album. Takođe je i dozvoljena opcija besplatnog preuzimanja koja će važiti do pojave fizičkog izdanja, 13. oktobra.
U2 su svirali na Apple-ovom događaju, a direktor te kompanije Tim Kuk (Tim Cook) objavio je da će novi album moći besplatno preuzeti 500 miliona korisnika servisa iTunes.
Snimljen u Dablinu, Londonu, Njujorku i Los ANdđelesu, album Songs of Innocence je produciran od strane Danger Mouse-a uz saradnju sa Polom Epvortom (Paul Epworth), Rajanom Tederom (Ryan Tedder), Deklanom Gafnijem (Declan Gaffney) and Flood-om.
Bono je napisao za fanove predstavljajući im nove pesme: "Sećate nas se? Prezadovoljan sam da u svojo, Edžovo (Edge), Adamovo (Adam) i Lerijevo ime predstavimo rođenje naše nove bebe… 'Songs of Innocence'… Prošlo je neko vreme od našeg poslednjeg albuma. Želeli smo da napravimo pravu stvar za vas i nas. Završili smo ga protekle nedelje i zahvaljujući Apple-u i iTunes-u on je sa vama danas…"
Spisak pesama albuma Songs of Innocence:
The Miracle (of Joey Ramone)
Every Breaking Wave
California (There Is No End To Love)
Song For Someone
Iris (Hold Me Close)
Volcano
Raised By Wolves
Cedarwood Road
Sleep Like A Baby Tonight
This Is Where You Can Reach Me Now
The Troubles
(Visited 71 times, 1 visits today)