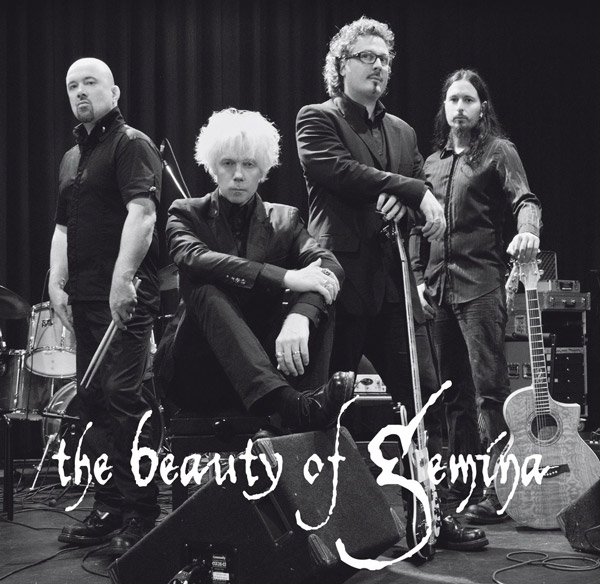 The Beauty of Gemina je bend iz Švajcarske, osnovan od strane Majkla Sela (Michael Sele) 2006. godine. Njihovu muziku možemo okarakterisati kao mešavinu sinti roka, dark roka, alternativnog roka i dark vejva.
Iza sebe do sada imaju četiri veoma uspešna albuma: "Diary of a Lost" (2006), "A Stranger to Tears" (2008), "At The End Of The Sea" (2010) i "Iscariot Blues"(2012), za koje su dobili i izuzetno dobre kritike.
Peti album pod nazivom "The Myrrh Sessions" izašao je 16. februara.
Njihov stil je svež, originalan i energičan, sa impresivnim i inventivnim aranžmanima u kojima se jasno ističu pojedinačni talenti sva četiri člana benda. Oni koji do sada nisu imali prilike da poslušaju The Beauty of Gemina ovo je prava prilika, uživaće u još jednom novom muzičkom poglavlju, a pre svega u uzbudljivim pesmama dostojnim melanholije.
Lista pesama sa novog albuma izgleda ovako:
01. Myrrh 1
02. Narcotica
03. Rumours
04. Suicide Landscape
05. Dark Rain
06. Listening Wind
07. Golden Age
08. The Lonesome Death of a Goth DJ
09. Hunters
10. Kingdoms of Cancer
11. Myrrh 2
12. Last Night Home
13. Stairs
14. Obscura
15. Last Words
Bend čine: Majkl Sele (Michael Sele) – vokal, klavijature, Mek Vinzens (Mac Vinzens)– bubnjevi, Dejvid Vetš (David Vetsch) – bas gitara i Denis Mungo (Dennis Mungo)- gitara.
(Visited 31 times, 1 visits today)