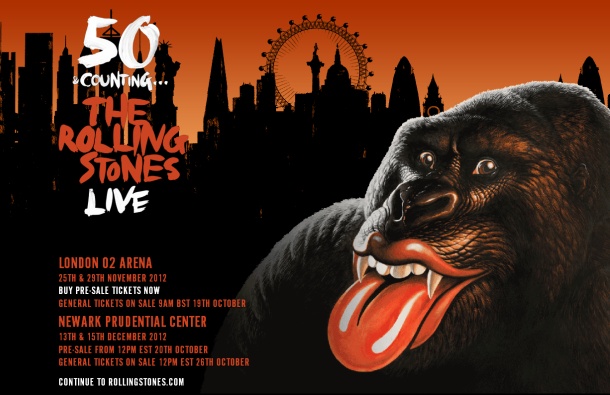 Britanska grupa "The Rolling Stones" objavila je pesmu "Doom and Gloom" koja je ujedno i prvi singl sa nove kompilacije njihovih najvećih hitova, kao i prva nova pesma nakon albuma "A Bigger Bang". Povodom 50 godina postojanja, "Stonsi" će održati četiri koncerta. Dva u Londonu, 25. i 29. novembra i dva u okolini Njujorka 13. i 15 decembra.
"London je naš grad, tu smo počeli i tu ćemo i da slavimo jubilej koji baš i ne doživljavamo. Nekako ne verujemo da je prošlo toliko vremena, a mi smo ovde i dalje" kažu Mik Džeger (Mick Jagger), Kit Ričards (Keith Richards), Roni Vud (Ronnie Wood) i Čarli Vots (Charlie Watts) u promotivnom videu.
Turneja "Četiri dana i četiri noći sa Stonsima" biće i prilika da promovišu novi singl "Doom and Gloom". Pesma je snimljena u Parizu u avgustu ove godine, a produkciju potpisuje Don Vas (Don Was) koji je sa Stonsima već sarađivao na albumima "Voodoo Lounge", "Bridges To Babylon", "A Bigger Bang", "Live Licks" i "Stripped".
Animaciju za video za "Doom and Gloom" radio je Rok Predin, sin Zorana Predina.
(Visited 49 times, 1 visits today)