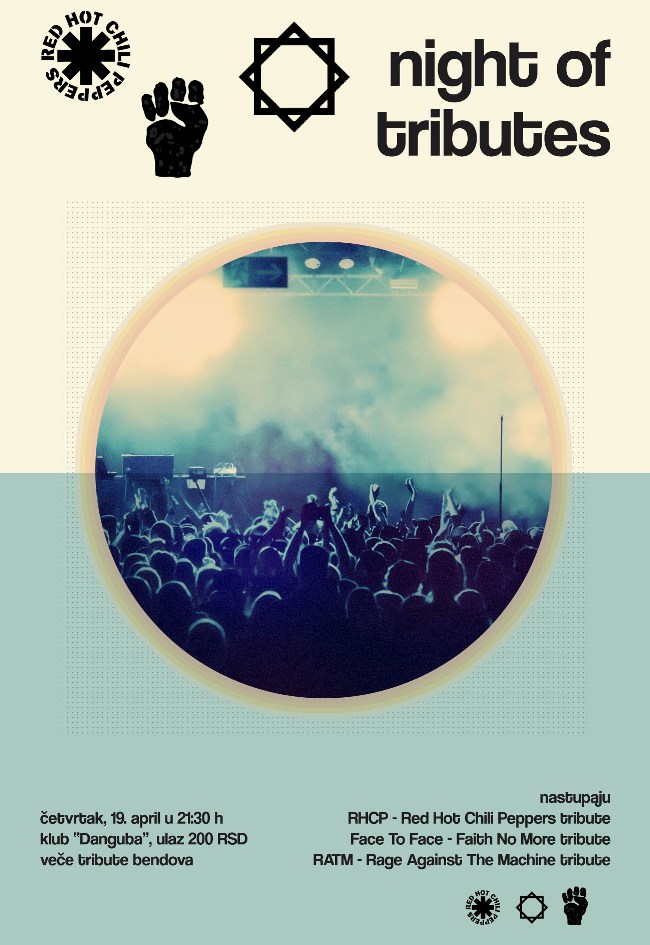 U četvrtak 19. aprila sa početkom u 21:30h, održaće se Veče Tribute bendova u klubu Danguba.
Nastupaju RHCP – Red Hot Chili Peppers tribute band, koji će nastupiti pred beogradskom publikom posle povratka sa turneje iz Dominikane, RATM – Rage Against The Machine tribute band i Face To Face – Faith No More tribute band, koji će u sklopu svoje "Fools For a Day tour" nastupiti u Dangubi.
Za sve obožavaoce funk-hard rock-metal-alternative zvuka, ovo će biti jedinstveno veče za pamćenje.
Očekujemo Vas na vreme, jer nemamo običaj da kasnimo, poručuju bendovi.
Ulaz 200 dinara.
Satnica:
Red Hot Chili Peppers Real Tribute od 22h
Faith No More Tribute (Face To Face) od 23h
Rage Against The Machine Real Tribute Band od 00h
(Visited 48 times, 1 visits today)