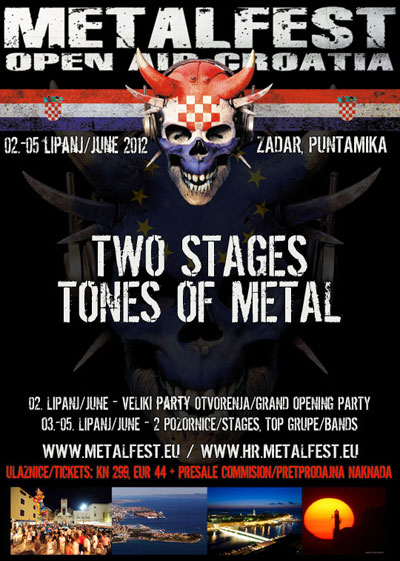 Metalfest održava se u sedam zemalja na osam lokacija: Austrija, Nemačka (zapad i istok), Poljska, Hrvatska, Italija, Švajcarska i Češka. Počinje 31. maja i traje do 10. juna. Termini održavanja se razlikuju od zemlje do zemlje, ali svuda traje tri dana.
Metalfest Croatia biće održan na poluostrvu Puntamika koji je sastavni deo Zadra. Festivalski prostor okružen je morem s tri strane što ga uz šljunkovite plaže čini veoma atraktivnim jer se festival održava od 02. do 05.juna.
Kamp Borik (http://www.campingborik.com/) nalazi se na 3,5km od Zadra i kapacitet mu je 2000 osoba. Uz sve neophodne usluge (neke se doplaćuju) i objekte, u kampu se nalazi i WC prilagođen osobama sa posebnim potrebama.
Naravno, line up je verovatno značajniji od ovih generalija mada ni prethodne informacije nisu zanemarljive. Tri dana i dve bine, a spisak izvođača je poduži.
Jedan od najpoznatijih svetskih trash metal bendova Megadeth potvrdio je učešće na ovom festivalu. U prevodu – Megadeth je headliner festivala. Jedino će preskočiti Švajcarsku.
Osim njih na Metalfestu u Hrvatskoj nastupaće:
In Extremo
Blind Guardian
Kreator
W.A.S.P.
Behemoth
Fear Factory
Hypocrisy
Legion of Damned
Dark Tranquility
Ensiferum
Powerwolf
Alestorm
Death Angel
Triptykon
Lake of Tears
Vader
Skull Fist
Hate
Fleshgod Apocalypse
Rising Dream
Infernal Tenebra
Brezno
Doomed
Ashes You Leave
Uninvited
Decontrolled
Gorthaur's Wrath
Toxicdeath
Mephistophelian
E.N.D.
Evil Blood
Inmate
Cold Snap
Inverted Pussyfix
Cene ulaznica se menjaju u odnosu na datum kupovine:
54€ (važi do 28.02.2012.)
59,5€ (važi do 31.03.2012.)
65€ (važi do 30.04.2012.)
70,5€ (važi do 01.06.2012.)
i na ulazu će biti 89€
Ulaznice se mogu kupiti online preko Metalfest Online-Trgovine (http://www.hardticket.si/) i na svim ovlašćenim mestima za prodaju ulaznica preko ticketing servisa.
(Visited 47 times, 1 visits today)