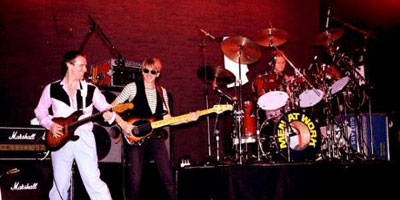 Australijska grupa Men at Work i zastupnik EMI-ja za ovaj deo sveta moraće da plate muzičkoj kući Larrikin pet procenta od ukupne zarade na pesmi Down Under za poslednjih osam godina, prema odluci državnog suda u Sidneju.
Flautista Grag Ham, koji je dobijao vrlo mali procenat od zarade na ovoj pesmi, izjavio je da će verovatno morati da proda kuću kako bi, posle isplate duga, mogao da sastavi kraj sa krajem, prenosi The Age.
"Dobar deo moje pesme je ukaljan. Sada će pesma biti upamćena po suđenju i mrzim to. Vrlo sam razočaran što ću po ovome ostati upamćen- kao prepisivač", dodao je Ham o presudi, objašnjavajući da je, u toku pisanja muzike, samo tražio nešto 'australijsko' i da nikome nije padalo na pamet da su 'skinuli' deo dečje pesme.
Početkom godine Larrikin su tužili grupu za krađu deonice iz pesme Kookaburra Sits in the Old Gum Tree i tražili 60% od zarade na pesmi Down Under.
Prvobitna presuda suda išla je više u korist Larrkinu, ali je kazna smanjena posle EMI-jeve žalbe.
{youtube}DNT7uZf7lew{/youtube}
(Visited 80 times, 1 visits today)