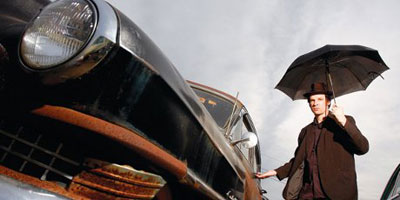 U organizaciji Bad Music For Bad People u junu će u beogradskoj Akademiji nastupiti četiri garažna rock benda iz Amerike.
U ponedeljak, 7. juna, binu će podeliti John Paul Keith & the One Four Fives i Harlan T. Bobo & the Chimps, oba benda iz Memfisa, a u utorak nastupaju Jack-O & the Tennesse Tearjerkers (na slici) iz Memfisa i Apache iz San Franciska.
Jack-O & the Tennesse Tearjerkers je osnovao Jack Oblivian (Oblivians), bend neguje zvuk Rolling Stonesa "iz Exile on Main St. i Sticky Fingers faze izmešan sa lokalnim nasleđem bele i crne muzike i propušten kroz Oblivianov punck rock filter", kaže se u najavi organizatora.
Harlan T. Bobo, jedan od nadarovitijih autora žanra mlađe generacije, nastupa sa bendom The Chimps i promoviše svoj novi album Sucker. John Paul Keith je iskusni studijski muzičar, saradnika T. Boba i Obliviana.
Iste večeri sa Jackovim bendom The Tennesse Tearjerkers nastupaju Apache, glitter rock grupa duhovitih nastupa u kojima često ismevaju kliše izgled rocker iz ranih 70-ih.
Karte za oba koncerta mogu se kupiti po predprodajnom ceni od 800 dinara na šankovima kafea Brod (29. novembra 39) i Fleka (Akademija), na ulazu će biti 1 000 dinara.
Oba koncerta počinju u 22 h.
{youtube}Ib5NvStW4rM{/youtube}
(Visited 57 times, 1 visits today)