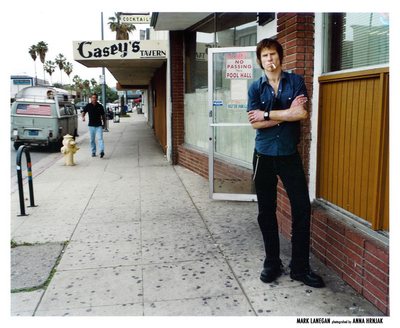 Američki alternativni muzičar Mark Lanegan, nekadašnji član grupe Queens of the Stone Age i Screaming Trees, nastupiće 21. novembra sa svojim četvoročlanim bendom u sali Amerikana u Domu omladine Beograda.
Među ostalim gradovima u kojima će takođe nastupiti u sklopu ove turneje (18. novembar – 1. decembar) nalaze se i Zabreb, 24. novembra i Ljubljana 25. novembra.
"Preživeo je i pobedio razna iskušenja, bolesti, zavisnosti, poroke, saobraćajne nesreće, nemaštinu…i kada sada peva "I drunk myself sick" nema čoveka koji će da se zapita da li zna o čemu peva… Njegove pesme – "veće od života" – mračne su razglednice poslate od čoveka koji je zaista živeo život. I na radost mnogih – još ga živi", navodi se u saopštenju organizatora.
Mark Lanegan je svoju muzičku karijeru počeo ranih osamdesetih godina sa bendom Screaming Trees, sarađivao je sa Kurtom Kobejnom (Kurt Cobain) iz Nirvane, da bi se nakon razlaza sa Trees-ima posvetio solo karijeri i novoj super-grupi Queens Of The Stone Age. Lanegan je radio i sa Izabel Kambel (Isobel Cambell), bivšom pevačicom Belle&Sebastian, Nikom Kejvom (Nick Cave), kao i sa Gregom Duliem (Greg Dulli) iz Afghan Wigs.
Tokom svoje solo karijere Mark Lanegan objavio je sedam studijskih albuma: "The Winding Sheet", 1990. godine; "Whiskey For The Holy Ghost", 1994. godine; "Scraps At Midnight", 1998. godine; "I'll Take Care Of You", 1999. godine; "Field Songs", 2001.godine; "Bubblegum", 2004. godine; "Ballad of the Broken Seas" (with Isobel Campbell), 2006 godine; "Sunday at Devil Dirt"(with Isobel Campbell), 2008. godine ; "Hawk"(with Isobel Campbell), 2010. godine i "Blues Funeral, 2012 .godine.
Gostovao je na pesmama prijatelja i fanova kao što su "The Walkabouts", Majk Vat (Mike Watt), Masters Of Reality, Martina Topli Bird (Martina Topley-Bird), Mondo Generator, UNKLE, Bomb The Bass…a, ove godine već je obradio:
– na albumu violinistkinje Fione Brajs (Fiona Brice) (The Separate – Orchestral Variations 0.1) – hit The Cure – "Close To Me"
– na drugom albumu s obradama pesama Džefri Li Pirsa (Jeffrey Lee Pierce) i grupe The Gun Club ("The Journey is Long")
– sa Izabel Kembel obradio je jednu od najlepših pesama ikada napisanih – "The Breaking Hands"
– zajedno sa Martinom Topli Bird (Topley) i ritam sekcijom benda Warpaint – obradio je hit "Crystalized" britanske grupe The XX.
Mark Lenegan je glavni pevač na dve genijalne ploče trip-hop-bluza tandema Soulsavers, član Queens of The Stone Age, Gutter Twins, Twillight Singers… Takođe, učestvovao je na brojnim tribjut i benefit albumima na kojima je pevao pesme Vilija Nelsona (Wille Nelson), Skipa Spensa (Skip Spence), Tima Baklija (Tim Buckley), The Kinks, The Afghan Whigs, Džuniora Kimbroa (Junior Kimbrough), Boba Dilana (Dylan), Džefri Li Pirsa i njegovog The Gun Cluba (Jeffrey Lee Pierce)…
Na poziv Nika Kejva, priključio se ad-hoc bendu The Bootleggers, koji je legendarni Australijanac okupio za potrebe svog novog filma "Lawless". The Bootleggers čine članovi grupa The Bad Seeds i Grinderman – Nik Kejv, Voren Elis (Warren Ellis) i Martin Kejsi (Martin Casey), kao i gitarista Groove Armade Džordž Vještica (George Vještica), producent/kompozitor David Sardi (David Sardy) ali i Mark Lanegan, Ralf Stenli (Ralph Stanley) Emilu Heris (Emmylou Harris) i Lila Mos (Liela Moss) iz Duke Spirit (Duke Spirit)
Reč je o gangsterskom filmu iz doba prohibicije i predstavlja novu saradnju Nika Kejva sa rediteljem Džonom Hilkotom (John Hillcot). Glavne uloge tumače Šaja Labuf (Shia LaBeouf), Tom Hardi (Tom Hardy), Gari Oldman (Gary Oldman), Gaj Pirs (Guy Pearce)… Film će premijerno biti prikazan u okviru predsojeće Sinemanije od 24. do 31. oktobra u Beogradu i Novom Sadu. Za razliku od filma "The Proposition" iz 2005.godine – prethodnog dela ovog tandema – ovoga puta ideja nije Kejvova, nego je njegov scenario baziran na romanu Meta Bonduranta "The Wettest County In The World". O saradnji sa Nikom Kejvom, Mark Lanegan je rekao:
"Upoznao sam Nika Kejva još 1992. godine i to kada sam išao da gledam koncert The Bad Seeds. Poziv da radim sa njim za mene je došao baš iznenada, ali sve je bilo jako jednostavno – Nik me je pozvao i pitao da li me zanima – za mene nije bilo dileme. Pesme za koje me je zvao su neke od onih koje znam i pevam oduvek. Genijalni Link Rej (Link Wray) je tokom sedamdesetih godina 20. veka objavio tri albuma na kojima je i pevao – pored standardnog sviranja gitare. "Fire & Brimstone" je sa prvog (1971 "Link Wray"), i tu pesmu znam i pevam dugo, dugo godina… Tu pesmu Captaina Beefhearta ("Sure 'Nuff Yes I Do") pevam u svakoj situaciji od kada znam za sebe, a i "White Light/White Heat" je strašno poznata…"
Kompilacija "Anthology" Marka Lanegana, na kojoj će po prvi put na jednom mestu naći svoje mesto sve njegove pesme koje je obrađivao tokom poslednje tri decenije, kao i brojne originalne pesme koje su bile objavljivane van studijskih albuma. trebalo bi da se pojavi početkom 2013. godine.
Koncert u Beogradu će početi u 20 časova, a ulaznice se mogu kupiti po pretprodajnoj ceni od 1.800 dinara na svim prodajnim mestima Eventima, u kafeu Šikarica (Skadarska 22) i u prodavnici ploča Pinball Wizard Records (Eurocentar, Makedonska 30).
(Visited 20 times, 1 visits today)