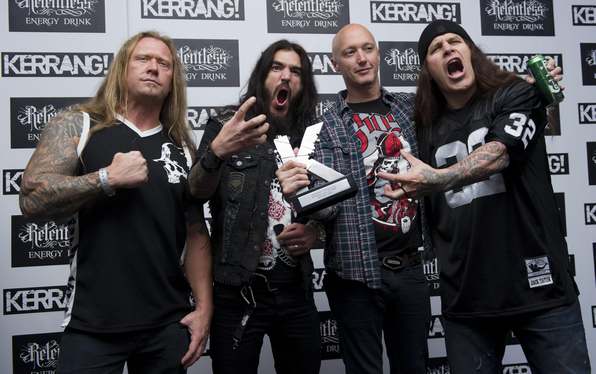 2004. godine napunili su zagrebačku Tvornicu kulture. Američke legende metala Machine Head se ponovno vraćaju u Hrvatsku, ali ovog puta u Osijek.
Koncert će se održati 31. jula u dvorištu kluba Vega, a ulaznice po ceni od 150 kn biće u prodaji od 2. jula, dok će na dan koncerta koštati 170 kn. Pretprodajna mjesta su Dirty Old Shop u Zagrebu i Rock Shop Stress u Osijeku. Za hrvatsko područje moguća je dostava preko www.dirtyoldempire.com/shop .
Machine Head trenutno su na turneji na kojoj promovišu svoj poslednji studijski materijal "Unto The Locust" objavljen u septembru prošle godine. Bend su 1992. godine osnovali gitarista i pevač Robb Flynn, nakon što je napustio bend Vio-lence, i basista Adam Duce. Par puta su menjali postavu, a danas u bendu sviraju još i bubnjar Dave McClain i gitarista Phil Demmel, takođe bivši član Vio-lencea. Svoj prvi studijski album Burn My Eyes, mešavinu treš i gruv metala izdali su 1994. godine. Taj album je bio najprodavaniji debitantski album izdavačke kuće Roudraner Rekords. Sledeći album The More Things Change…, stilom sličan prethodnom, izdaju 1994. godine. Na trećem i četvrtom albumu (The Burnung Red i Supercharger) dolazi do promene stila, uvode rep vokale te elemente nu metala, što je dovelo do negativnih kritika publike i muzičkih kritičara. Petim albumom Through the Ashes of Empires vraćaju se svom originalnom stilu, treš i gruv metalu a album je dobro primljen među obožavateljima, kao i sledeći, The Blackening, sa kojeg je pesma "Aesthetics of Hate" bila nominovana za Gremi.
(Visited 33 times, 1 visits today)