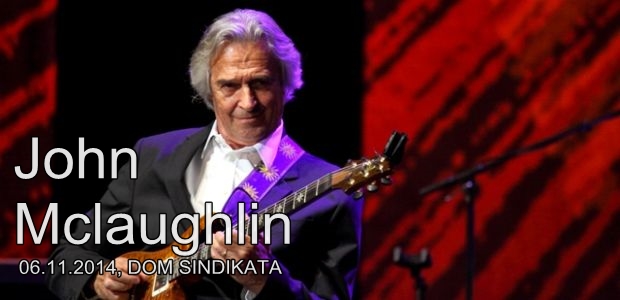 Legendarni džez fjužn maestro na gitari, Džon Meklaflin (John McLaughlin), gostovaće u Domu Sindikata, 6. novembra!
Mnogi ga smatraju jednim od najuticajnijih i tehnički najboljih gitarista svih vremena, koji je ovladao izuzetno velikim rasponom stilova i žanrova, među kojima su džez, indijska klasična muzika, flamenko i fjužn.
Muzičar čije se ime izgovara sa puno poštovanja, Džon Meklaflin, može da se pohvali biografijom kakvu ima malo koji muzičar na planeti!
Od grupe Majlsa Dejvisa (Miles Davis), The Rolling Stones-a, Karlosa Santane (Carlos Santana), gitarskog tria s gitaristima Pakom de Lusijom (Paco de Lucia) i Lerijem Korielom (Larry Coryell), do muzike za balet i Filharmonije Los Anđelesa, u svojoj skoro 40 godina dugoj karijeri, Džon Meklaflin je snimio preko neverovatnih 40 albuma, a ove godine izdaje i novi studijski album!
Ovaj virtuoz uskoro kreće na evropsku turneju sa svojim džez kvartetom, The 4th Dimension koga još čine i Gari Hasbend (Garry Husband), Etijen Mbape (Etienne Mbappe), Ranjit Barot, a u tom sastavu će još jednom posetiti Beograd i pokloniti mu svirku od koje zastaje dah!
Ulaznice su u prodaji po cenama od 2600, 3200 i 3900 na svim prodajnim mestima CS Eventima kao i na blagajnama: Kombank Arene, Bilet centra Beograda, Doma omladine, "Ušće" Shopping centra i putem sajtova: www.kombankarena.com i www.eventim.rs. Ulaznice se mogu kupiti i na više jednakih mesečnih rata bez kamate kreditnim karticama Komercijalne banke na četiri navedena prodajna mesta.
(Visited 94 times, 1 visits today)