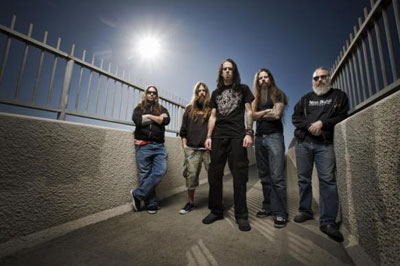 Samo tri nedelje posle hrvatskog Metalfesta, Lamb Of God nastupaju u klubu Boogaloo u Zagrebu 26. juna.
Ovo je bio najtraženiji bend za Metalfest Croatia, ali s obzirom da bendu nije odgovarao taj termin organizovan je koncert za koji će vlasnici ulaznica pomenutog festivala imati popust. Naravno, potrebno je priložiti ulaznicu kao dokaz za specijalan popust. Organizatori će uskoro objaviti ostale detalje u vezi prodaje karata i predgrupi koja će nastupiti.
Lamb Of God osnovan je 1994. godine pod imenom Burn The Priest, snimio je nekoliko demo materijala, a 1999. i istoimeni debi album. Ubrzo nakon izlaska tog albuma menja ime u sadašnje. Vrlo brzo postali su jedan od zaštitnih znakova modernog američkog heavy metala, koji je u medijima dobio naziv "New Wave Of American Heavy Metal".
Njihov novi album "Resolution", čije je objavljivanje najavljeno za 24. januar spada u kategoriju najiščekivanijih metal albuma u ovoj godini.
{youtube}VPf8BR7YYkw{/youtube}
(Visited 42 times, 1 visits today)