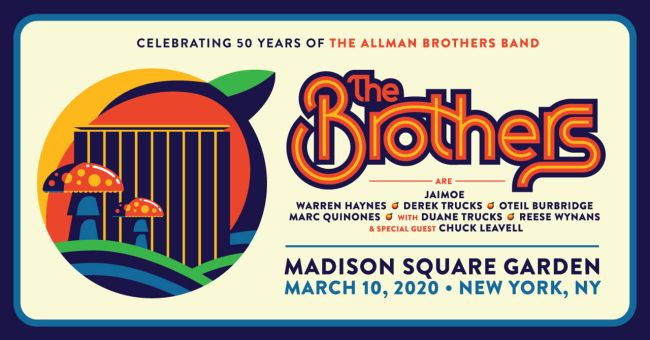 Preostali članovi poslednje postave The Allman Brothers Band-a sastaće se ponovo da bi odsvirali koncert u martu u Njujorku (Madison Square Garden). Događaj je označen kao The Brothers: Celebrating 50 Years Of The Music Of The Allman Brothers Band.
Na koncertu koji je zakazan za 10. mart sviraće gitaristi Voren Hejns (Warren Haynes) i Derek Traks (Derek Trucks), originalni bubnjar Džejmo Johanson (Jaimoe Johanson), basista Otejl Barbridž (Oteil Burbridge) i perkusionista Mark Kvinones (Marc Quinones).
"Nakon svih slavnih koncerata od Filmorado Bejkona, Njujork je uvek predstavljao jednu vrstu duhovnog utočišta za bend, tako da je najprirodnije da odamo počast Duejnu, Gregu, Beriju i Baču ovde u Medison Skver Gardenui veoma sam uzbuđen što ću još jednom svirati sa momcima." izjavio je Derek Traks.
"Teško je za poverovati da je prošlo 5 godina od našeg poslednjeg koncerta u Bejkonu. Tada smo pričali da ćemo odsvirati poslednji koncert u Medisonu, ali se to nikada nije desilo. Odličan način da se oda počast Bendu i muzici."
Gosti na koncertu će biti Ris Vajnens (Reese Wynans), Duejn Traks (DuaneTrucks), a kao specijalni gost najavljen je pijanista Čak Livel (Chuck Leavell).
Karte će u prodaju biti puštene 10. januara putem Ticketmaster-a.
(Visited 26 times, 1 visits today)