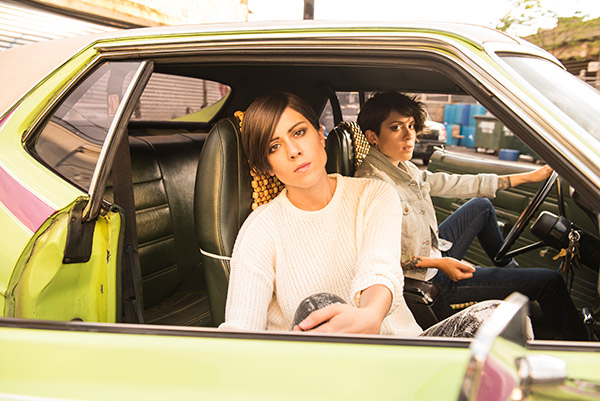 Tegan and Sara, kanadski indie pop duo, vraćaju se u Evropu ove jeseni na turneji na kojoj promovišu izuzetno uspešan poslednji studijski album Heartthorb. U Zagreb, u Tvornicu kulture dolaze u četvrtak 07.11. na svoj prvi ikada nastup u ovom delu Evrope, koji će biti ekskluzivan za našu regiju.
U karijeri su Tegan and Sara objavile sedam studijskih albuma koji su se ukupno prodali u nekoliko miliona primeraka, nastupale su na svetskim turnejama kao podrška za The Killers, Nila Janga (Neil Young) i The Black Keys, a samo ove godine u naslovnim ulogama pojavile su se na Coachella festivalu, SXSW i Lollapaloozi.
U njihovoj rodnoj Kanadi aktualan album Heartthrob nominovan je za Polaris nagradu, njihov ekvivalent britanske Mercury nagrade. Heartthrob objavljen je 29. januara i već u prvom vikendu izlaska ulovio laskavo treće mesto Billboardove top liste. Album je ocenjen kao njihov najkomercijalniji dosad, a prvi singl "Closer" (koji je dosad zabeležio više od 7 miliona gledanja na Jutjubu) doneo im je uspeh na top listama širom sveta.
Prodaja ulaznica počela je 4. septembra, a early bird cena iznosi svega 100 kuna i traje do 29. septembra. Od 30. septembra cena je 120 kuna, dok će na dan koncerta iznositi 150 kuna.
Prodajna mesta:
Dirty old shop, Tratinska 22
Rockmark, Berislavićeva 13
Dancing Bear Shop, Gundulićeva 7
Dallas Music Shop, Tkalčićeva 7
Eventimova prodajna mesta i www.eventim.hr
VIP ulaznice – Kao i na celoj turneji, i u Zagrebu će Tegan and Sara ponuditi limitiran broj VIP ulaznica (30 komada) po standardnoj ceni od 560 kuna (75 evra).
VIP ulaznica uključuje:
Meet & Greet i fotografisanje sa bendom
Potpisan plakat
Potpisanu set listu
VIP propusnicu
Mogućnost kupovanja merchandisea pre otvaranja kluba
VIP ulaznice mogu se kupiti isključivo na Eventimovim prodajnim mestima i na sajtu www.eventim.hr.
(Visited 54 times, 1 visits today)