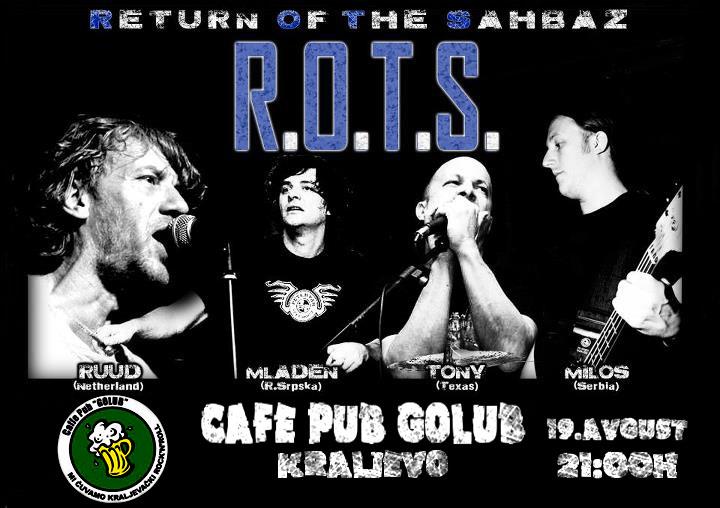 Internacionalni bend R.O.T.S. (Return of the Sahbaz) čiji koreni potiču iz četiri različite zemlje: Holandije, Amerike (Teksasa), Bosne i Hercegovine i Srbije nastupiće večeras, 19. avgusta u poznatom kraljevačkom kafe pabu Golub sa početkom u 21h.
Četvoročlani bend R.O.T.S., svaki hvaljen u zemlji iz koje potiče, sastali su se prvi put kao predavači u muzičkoj školi na Kosovu. Sada redovno pišu pesme, komponuju i idu na turneje širom Balkana i Evrope.
Rud Borgers (Ruud Borgers, Holandija) pevač, tekstopisac i gitarista koji nastupa skoro tri decenije. Njegovi bendovi Bo the Rude, Reddmoon i Takkedak imali su presudnu ulogu u definisanju holandske rock scene.
Toni Barila (Tony Barilla, Teksas, Amerika) je tekstopisac i muzičar koji piše i nastupa otkako se prvi put ušunjao u svoj prvi blues bar da svira klavir sa četrnaest godina.
Miloš Dražević (Srbija) i Mladen Marinković (Bosna i Hercegovina) proveli su skoro deceniju radeći zajedno kao najglasnija ritam sekcija Kosova, idući na turneje i nastupajući sa "zloglasnim" garage/punk bendom Hosenfefer.
Zajedno ova četiri muzičara su R.O.T.S. novi rokenrol bend koji je proveo poslednjih nekoliko godina gradeći ugled širom Balkana puni energičnih živih nastupa i originalnih materijala. Sviraju direktan rock 'n' roll, jer je to zajednički jezik kojim govore. Njihova muzika nije naročito alternativna ili indi, i verovatno je više pod uticajem bendova iz 70-ih i 80-ih nego bendova iz poslednjih 20 godina.
Poslušajte jednu od pesama i uverite se da ako ste u blizini Kraljeva obavezno večeras svratite do Goluba.
(Visited 66 times, 1 visits today)