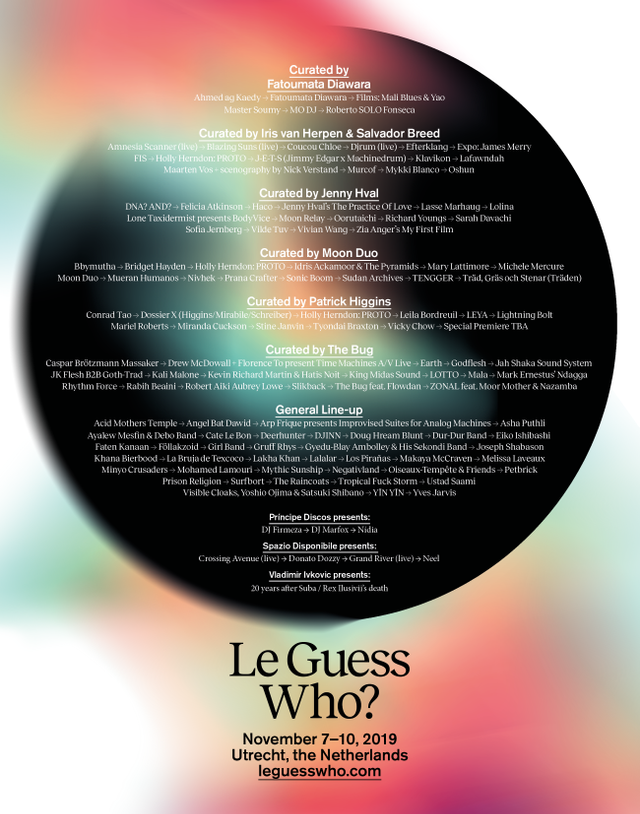 Organizatori holandskog Le Guess Who? festivala  koji će ove godine održati od 7. do 10. novembra na raznim lokacijama u Utrehtu. kompletirali su program po izboru gostujućih kuratora.
Gremi nominovana muzičarka iz Malija, Fatoumata Diawara, okrenula se ka izvođačima povezanim sa afrokubizmom, što predstavlja kombinaciju afričke i kubanske muzike i afrofutirizma. Zbog toga na njenom spisku želja su kubanski pijanista Roberto Fonseca, reper Master Soumy i nomadski tuareški umetnik Ahmed Ag Kaedy.
Holandska modna dizajnerka Iris van Herpen i njen partner Salvador Breed, skrojili su program koji simboliše njihovu veoma ispresecanu estetiku. Tu su danski pop sastav Efterklang, duo iz Berlina Amnesia Scanner, J-E-T-S, saradnja između Jimmy Edgara i Travisa Stewarta (Machinedrum), zatim američki reper, pesnik i aktivista Mykki Blanco kao i jedinstveni DJ/producent Djrum.
Holly Herndon će predstaviti svoj pionirski poduhvat "PROTO" uživo na Le Guess Who? festivalu. Performans se sastoji od grandiozne orkestracije kreirane zajedno sa predstavnikom veštačke inteligencije. Njen nastup našao se na listi želja Iris van Herpen & Salvadora Breeda, ali i benda Moon Duo i Patricka Higginsa.
Spisak kuriranih izvođača obuhvata i Sudan Archives, argentinskog dvojca stacioniranog u Berlinu Mueran Hermanos, zatim sastav Lightning Bolt, kao i multi-disciplinarni nastup Dossier X.
Kompletan spisak učesnika, uključujući i inicijalnu najavu, izgleda ovako:
Fatoumata Diawara
Ahmed ag Kaedy
Fatoumata Diawara
Films: Mali Blues & Yao
Master Soumy
MO DJ
Roberto SOLO Fonseca
Iris van Herpen & Salvador Breed
Amnesia Scanner (live)
Blazing Suns (live)
Coucou Chloe
Djrum (live)
Efterklang
Expo: James Merry
FIS
Holly Herndon: PROTO
J-E-T-S (Jimmy Edgar x Machinedrum)
Klavikon
Lafawndah
Maarten Vos + scenography by Nick Verstand
Murcof
Mykki Blanco
OSHUN
Moon Duo
Holly Herndon: PROTO
Mueran Humanos
Sudan Archives
Patrick Higgins
Dossier X (Higgins/Mirabile/Schreiber)
Holly Herndon: PROTO
Lightning Bolt
The Bug
Kali Malone
The Bug feat. Flowdan
Spazio Disponibile presents
Crossing Avenue (live)
Donato Dozzy
Grand River (live)
Neel
Príncipe Discos presents
DJ Firmeza
DJ Marfox
Nídia
Vladimir Ivkovic presents: 20 years after Suba / Rex Ilusivii's death
Informacije o ulaznicama, kao i o načinu kupovine, možete posetiti zvanični festivalski sajt.
(Visited 25 times, 1 visits today)