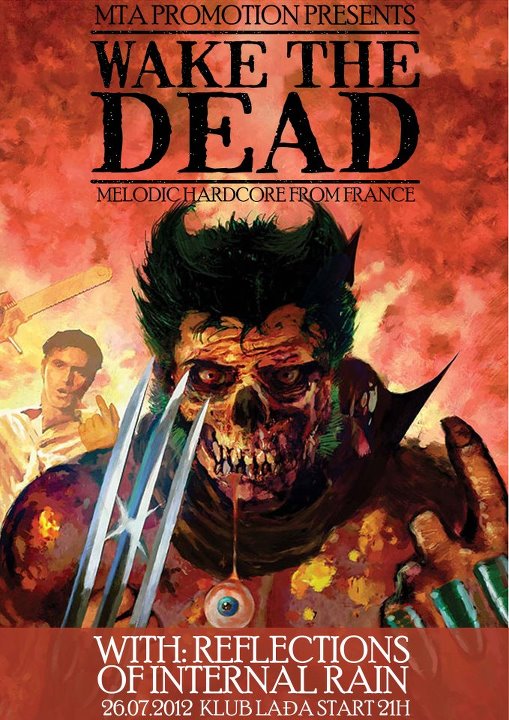 U četvrtak 26. jula klub Lađa će biti mesto okupljanja ljubitelja hardcore-a jer nastupa francuski bend Wake the Dead, a događaj će upotpuniti pripadnici srpske scene, beogradski sastav Blankfile i Novosađani Reflections Of Internal Rain.
Wake The Dead dolazi iz Marselja, gde je osnovan 2010. godine, a do sada su njegovi članovi održali više od 60 koncerata širom Evrope (prošle godine gostovali su u Home of JC na Dorćolu), objavili album "The Things we can't forget" i jedan EP. Svirali su sa No Turning Back, Cruel Hand, Ritual, Death by Stereo, No Friends, Nine Eleven.
Reflections Of Internal Rain i Blankfile takođe dele iskustvo sa nastupa po Evropi.
Reflections of Internal Rain traje osam godina kao jedan od najuspešnijih hardcore/punk bendova u Srbiji. Novosađani iza sebe imaju album "Last Flood" iz 2009. godine, a ove godine stigli su do Main stage-a Exit-a.
Blankfile postoji od 2002. godine. Objavili su dva albuma "Under the Influence" i "Turning the Season", EP "Fast Foreword". Nedavno su snimili i spot za singl "Roadkill", a na koncertu u četvrtak slušaćemo nove pesme sa albuma najavljenog za jesen.
Svirka počinje u 21 čas, cena ulaznice je 300 dinara.
(Visited 32 times, 1 visits today)