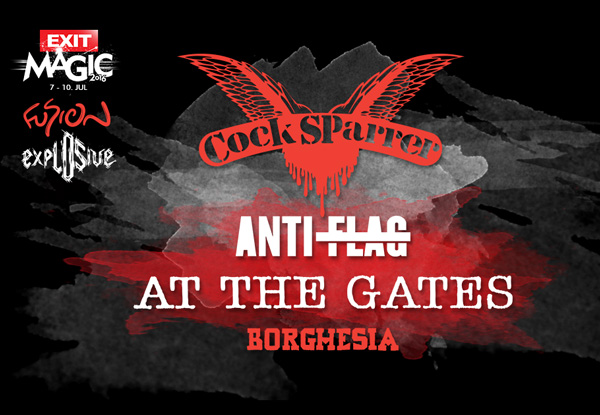 Neprikosnoveni vladari žestokog pank i metal zvuka, duboko ukorenjenog u najdubljem andergraundu, dolaze u gitarske hramove Exit festivala, na Fusion i Explosive bine! Najbolji živi pank bend i jedan od najuticajnijih "street punk" sastava ikada, Cock Sparrer biće hedlajneri Fusion bine u subotu, 9. jula. Punk zvuk će prvog dana Exita na Explosive bini braniti i kultni američki anti-establišment bend, Anti Flag, kojima će ovo biti prvi nastup u Srbiji! Na istu binu poslednjeg dana festivala dolaze pioniri i tvorci Geteburške metal scene, At The Gates, a u beskompromisnom zvuku će im se u petak, 8. jula na Fusion bini pridružiti i začetnici EBM i elektronskog dark-rok zvuka na ovim prostorima, ljubljanski sastav Borghesia!
Jedan od najpopularnijih pank sastava na svetu, Cock Sparrer, konačno dolaze na Exit Festival. Oformljeni još ranih sedamdesetih godina, na samom početku karijere su otkačili čuvenog menadžera benda Sex Pistols, Malkolma Meklarena) (Malcolm McLaren), koji je želeo da od njih napravi zvezde. Početkom sledeće decenije objavljuju legendarni Shock Troops, jedan od najuticajnijih punk albuma ikada. Njihov uspon kreće tokom 90-ih kada izlazi Guilty as Charged, da bi danas bili među najtraženijim pank-rok bendovima sa povorkom obožavalaca, čije svirke se pamte se za ceo život!
Kontroverzni, aktivistički pank-rok bend, čiji zaštitni znak je obrnuta američka zastava, Anti Flag, prvi put dolaze u našu zemlju! Nastali u Pitsburgu (Pittsburgh), inspirisani političkim porukama grupa Dead Kennedys i The Clash, početkom devedesetih napravili su bum na svetskoj muzičkoj sceni, a njihovi raniji albumi For Blood And Empire (2006), The Terror State (2003) i Underground Network (2001) inspirisali su brojnu publiku širom sveta da se pozabavi idejom socijalizma, anti-ratnim pokretom, kao i današnjim vodećim aktivističkim pokretom u Americi – Occupy. Anti-Flag se zalažu za radikalne promene, društvenu odgovornost i slobodu izražavanja, borbu protiv kapitalizma, rata i bezumnog nacionalizma, čime se bavi i njihov deseti album American Spring, koji je objavljen prošle godine.
Muzički fenomen poznat kao Geteburški zvuk (ili Geteburška scena) je svojim nastankom večno izmenio metal scenu svojim premošćavanjem i povezivanjem ekstremnog death metal zvuka i melodičnog heavy metala, a pioniri i tvorci Geteburške scene, švedski sastav At The Gates bili su i ostali markirani kao ikone ovoga zvuka. Ovoga leta dolaze Petrovaradinsku tvrđavu da uzdrmaju Explosive binu Exita!
Jedno od najznačajnijih imena slovenačke scene u vreme stare Jugoslavije, uz Laibach i Pankrte, nedvosmisleno je ljubljanski sastav Borghesia koji se smatra začetnikom EBM i elektronskog dark rok zvuka na ovim prostorima. Bend koji je, kako mnogi kažu, išao daleko ispred svog vremena, oformljen još 1982, svojom pojavom izazvao je brojne reakcije javnosti, a na scenu se u velikom stilu vraćaju 2009. godine, osveživši svoj stil mnogim novim motivima i novim idejama.
Počela prodaja ulaznica za srednjoškolce i studente!
Exit Avantura i ove godine ima povlašćene cene ulaznica za studente i srednjoškolce. Svi studenti rođeni 1989. godine ili kasnije ili srednjoškolci rođeni 1997. godine ili kasnije, imaju pravo na kupovinu jedne personalizovane ulaznice, koju samo oni mogu iskoristiti i koja ne može da se prenese na drugu osobu. Povlašćene cene su 5.999 dinara za Exit Avanturu, te 5.499 dinara za Exit festival.
Ulaznice se prodaju u Novom Sadu (Gigs Tix, Pariski magazin, Kralja Aleksandra 12) i Beogradu (Mikser House, Karađorđeva 46). Prilikom kupovine potrebno je prikazati validnu đačku knjižicu ili indeks. Takođe ulaznice mogu da se kupe i online putem portala Gigstix, uz prethodnu registraciju.
(Visited 98 times, 1 visits today)