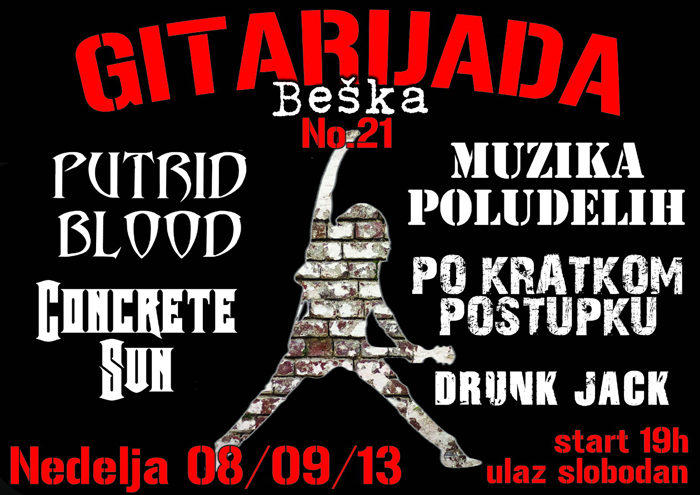 Na 21. Gitarijadi u Beški ove godine nastupiće bendovi Drunk Jack, Po Kratkom Postupku, Concerete Sun, Muzika Poludelih i Putrid Blood. Manifestacija počinje 8. septembra u 19 časova a ulaz je besplatan.
Drunk Jack: Bend koji je dobio najveći broj glasova publike u finalu takmičenja mladih neafirmisanih bendova koje je održano prošle godine na Gradskom trgu u Rumi. Kao muzičke uzore navode bendove Motörhead, W.A.S.P, Black Sabbath, AC/DC i KISS.
Po Kratkom Postupku: Pank rok bend iz Beške osnovan pre 11 godina. Glavni motiv za okupljanje članove grupe bila je dobra zabava uz sviranje muzike koju vole. U početku su svirali obrade bendova KUD Idijoti, Goblini, Džukele, Hladno Pivo, ali su vrlo brzo počeli sa autorskim radom. Do sad su objavili dva albuma "Iz prve ruke" i "Sve po spisku".
Concerete Sun: Novosadski stoner/sludge metal bend. Debi album "Sky is High" izdali su 2011. godine, a trenutno pripremaju drugi na kojem će se naći osam novih pesama, zajedno sa singlom "Silver Tear". Nedavno su na Gitarijadi u Rakovu nastupili sa bendovima Bjesovi, Dža ili Bu, Infidel i Wolfram.
Muzika Poludelih: Oi/hardcore bend iz Vrbasa. Prvi album "Definicija bolesti"izdali su 1997. godine kada su i osnovali grupu. Kako sami kažu, odsvirali su preko 1.000 koncerata, što u našoj zemlji, što u inostranstvu. Nakon prvenca objavili su još tri albuma My Unity (2003) , Hardcore Force (2005) , The Beast Is Back (2009)  i Ulice su mrtve (2012).
Putrid Blood: Thrash/metal bend iz Šida oformljen 2008. godine. Godinu dana kasnije imali su  prvu svirku i to u okviru festivala "Šidsko kulturno leto" kada su svirali zajedno sa bendovima Awaiting Fear, Ashen Epitaph, Salted Cut i Morbidoom. Nakon prvog demo albuma "Fire At Will", članovi benda Putrid Blood u novembru 2012. godine snimaju svoj prvi album "Absolute Profit", koji je je zvanično izdat za Miner Recordings.
(Visited 172 times, 1 visits today)