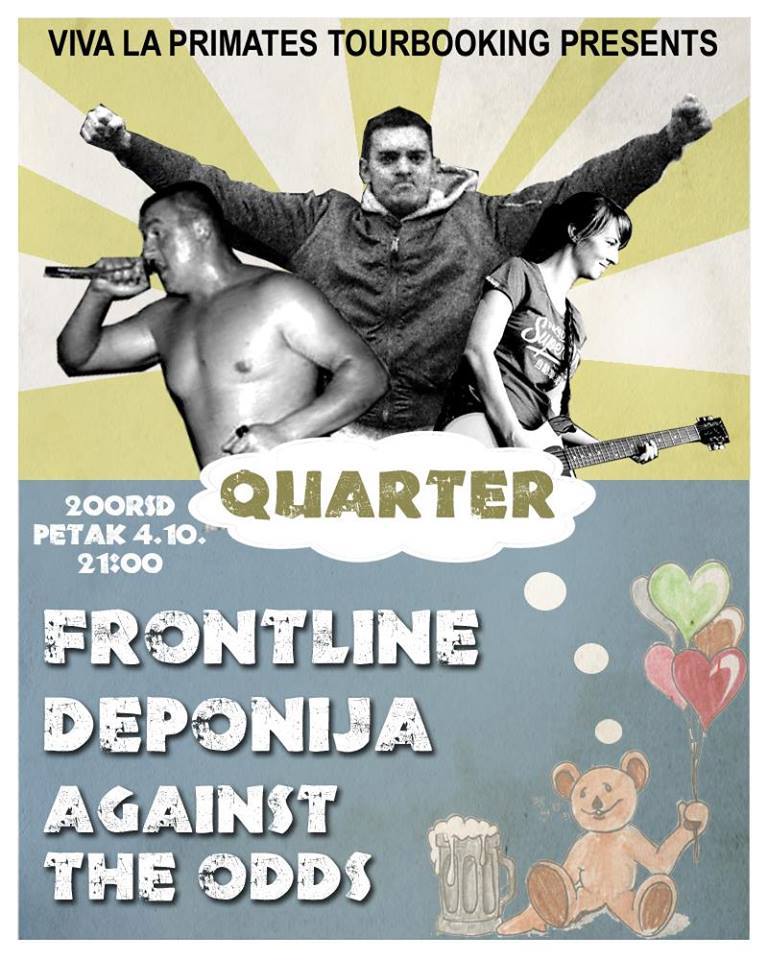 U petak, 4. oktobra, u klubu The Quarter pred poštovaocima panka nastupiće Frontline, Deponija i Against The Odds!
Novosadski pank rok sastav Frontline nastao je 2007. godine. Nakon nekoliko demo snimaka, 2008. godine, objavili su prvi album pod nazivom U prvim redovima, a krajem 2012. godine, izdali su i album Drugi dolazak.
Bend Deponija osnovan je 2007. godine. Svoj muzički pravac nazivaju Nintendo Pank, Tetris Pank, Elektro Pank, Alko Pank, Kich Pank… Iza sebe imaju sedam albuma, izdatih za sopstvenu izdavačku kuću "Zadruga Records" i mogu se besplatno skinuti na blogu.
Against the Odds je pank grupa iz Novog Sada, nastala 2011. godine. Snimili su dva EP-ja. Iza sebe imaju veliki broj koncerata, kao i učešće na velikim festivalima kao što su Exit i To Be Punk.
Početak koncerta zakazan je za 21h, a ulaz u klub će se naplaćivati 200 dinara.
(Visited 95 times, 1 visits today)