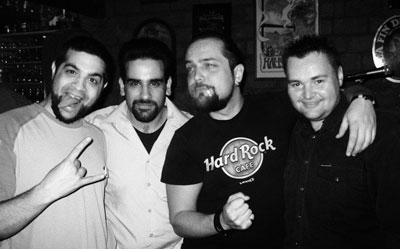 U petak 03. februara u beogradskom klubu "Crazy Horse" sa početkom u 22.30h FatWalk pokazaće šta umeju.
Sviraće za svoju, ali sigurno i za vašu dušu hitove Zz Top, The Cult, Queen, RHCP, Depeche Mode, Bon Jovi, Billy Idol, Whitesnake, Garry Moore, Led Zeppelin, Deep Purple, Jimmy Hendrix, Eric Clapton, Dire Straits, Ac Dc, The Beatles, ali i hitove domaće scene Leb i Sol, Ekv, Dino Dvornik, Partibrejkers, Atomsko Sklonište, Riblja Čorba, Gibonni, Parni Valjak, Divlje Jagode, Kerber, Yu Grupa…
"FatWalk" je r 'n' r bend iz Beograda. Za sebe kažu da su bend pozitivnog stava, debelih stomaka i širokog osmeha. U zavisnosti od ambijenta, muziku izvode u električnoj ili akustičnoj varijanti.
"Pozitivci" sa odličnim repertoarom su svakako dobar preduslov za dobar provod.
Poslušajte ih 3. februara.
(Visited 52 times, 1 visits today)